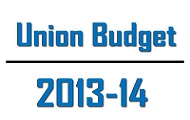 Before the budget presented there were a lot of expectations like raising the basic tax exemption to Rs. 3,00,000 from the current limit of Rs. 2,00,000, increasing the 80C limit from Rs, 1,00,000 to Rs. 1,50,000 also bringing back 80CCF exemption for tax free infra bonds etc, but all these hopes got dampened after Shri P. Chidambaram India's Finance Minister presented the Union Budget 2013-2014 today. It seems there is nothing to rejoice in the said budget.
Here I would like to share few highlights of the Budget 2013-14 so that you can be prepared well for the coming FY 2013-14.
No change in Income Tax Slab: In the current budget there is no change has been made in the existing tax slab and this will remain same as per the financial year 2012-13.
Income Tax Credit: Though there is no direct changes in the tax slabs, but there is an introduction of income tax credit of Rs. 2,000 plus 3% cess for people with a taxable income of up to Rs. 5,00,000. Let us see how does it work; 

Note: This tax credit has been made possible by inserting a new section 87A in the Income Tax Act,1961 which allows REBATE of upto Rs. 2,000/- from the income tax payable & the same is available only to an 'Individual' (not for HUFs) tax payer, resident in India.
Tax the Super Rich (Surcharge): The budget has also introduced a surcharge of 10% for people having a taxable income of Rs. 1 Crore or more per year. Current data says, out of total 5 Crores of individuals filing income taxes in India, the count of individuals having Rs. 1 Cr and above income are around 42,800.
Increased the investment limit for RGESS: The income limit for investors into Rajiv Gandhi Equity Saving Scheme (RGESS) has been raised to Rs. 12,00,000 from the current limit of Rs. 10,00,000. The timeline for investment has also been spread for 3 years i.e. in case you are short on cash; you will be able to spread the investment over 3 consecutive years instead of investing compulsorily in 1 year.
Introduction of Inflation Linked Bonds: A new bond is going to be introduced as Inflation Linked Bonds, which will match the returns of Inflation.
Additional deduction of home loan interest of up to Rs 1 lac: An additional deduction of Rs 1,00,000 on housing loan interest under section 80EE has been proposed for home loans up to Rs. 25,00,000 which is over and above the current Rs. 1,50,000 limit u/s 24.  Remember, only those individuals who obtain a loan between April 1, 2013 and March 31, 2014 will be able to secure this benefit. In case the full limit (of Rs. 1,00,000) is not utilized in a year, the remaining amount can be carried forward to the next year. This carry forward is allowed only for 1 year.
TDS for Real Estate Sale of Rs 50 lacs: Barring agricultural land any real estate transactions beyond Rs. 50 lacs the buyer have to pay 1% TDS. Eg: on purchase of Rs. 90 lacs property the TDS will be Rs. 90,000 i.e. 1% of Rs. 90 lacs.
STT Reduced: STT has been reduced in equity futures to 0.01%, MF redemptions from 0.25% to 0.001%, ETF purchases from 0.1% to 0.001% . Also a new Commodities Transaction Tax (CTT) has been introduced for trades in all non-agricultural commodities. This will be levied on non—agriculture commodities futures contracts at 0.01%.
Duty Free Import of Gold: The limit for duty free import of gold has been increased; men are allowed to bring Rs. 50,000 worth of gold jewellery and women are allowed to bring Rs. 1,00,000 worth of gold jewellery duty free.
Increase in Dividend Distribution Tax (DDT) on Debt Mutual Funds to 25%: Earlier debt mutual fund's the DDT was 12.5% where liquid fund's DDT was 25%, but now all kind of debt mutual funds will have DDT at 25%.
Excise Duty increases in SUV & Luxury two wheelers: Those planning to buy a vehicle have a reason to be sad. Excise duty on non-taxi SUVs has been hiked to 30 per cent from 27 per cent, while import duty on luxury two-wheelers have been increased to 75 per cent from 60 per cent. Import duty on luxury cars has been hiked to 100 per cent from 75 per cent and customs duty benefit on hybrid/electric cars has been extended up to March 2015.
Other Changes: The excise duty on Cigarettes, marble has been increased. Also the import duty of 6% will be levy on all mobile phones above Rs 2,000. Eating out will also become more expensive after FM proposing an additional service tax on them. This tax will be applicable to all air-conditioned restaurants, regardless of whether they serve alcohol or not.
So how do you find this budget? Is it really going to bring any difference in your financial life? Share your views.
You may download here the highlights of Union Budget 2013-14.
Budget Snapshot 2013-14: Points to be Noted