The Union Budget 2014-15 has brought some relief to individual tax payers. Pre-budget hypes were very (add one more VERY) high; such as increasing basic tax slab to Rs. 5,00,000 from the current limit of Rs. 2,00,000 and the viral updates with regards to 80C limit going be raised to at least Rs. 2,00,000 even max of Rs. 3,00,000, but all these guesses started getting certain (though it didn't hit the bulls eye, but nearing) when one by one statements were released by hon'ble minister of finance Shri Arun Jaitley.
Though it brought some cheers into individual taxpayer by raising basic tax slab Rs. 2,50,000 from existing Rs. 2,00,000 and few deduction limits like 80C raised to Rs. 1,50,000 and home loan interest deduction for self-occupied house property increased to Rs. 2,00,000, but it left disappointment among investors making investment into non-equity mutual fund to take advantages of indexation benefits for holding 12 months and more. Now Long Term Capital Gain tax on Debt Mutual Funds/FMPs increased from 10.00% to 20.00% and tenure increased from 12 to 36 months. Here I bring to you the quick notes out of the announcement;
Individual Tax Slab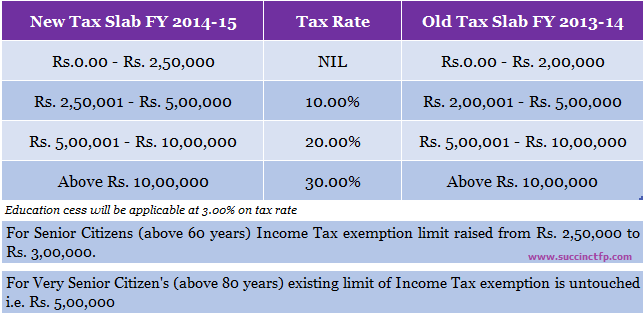 Other announcements pertain to individuals personal finance;
The Investment limit under Section 80C has been hiked to Rs. 1,50,0000 from the current Rs. 1,00,000. This will save another Rs. 5,000 of tax payable.
Maximum investment limit for PPF has been increased to Rs. 1,50,000 per year compare to current limit of Rs. 1,00,000 at max.
There is a good news for home loan borrowers paying higher interest where deduction claims are limited upto Rs. 1,50,000 (for self-occupied house property) u/s 24b. This has now been increased to Rs. 2,00,000 per years.
There is an increase in the tax rate of non-equity mutual funds. The rate of tax on Long Term Capital Gains from 10.00% to 20.00% on sale/transfer of units of such funds. There is also an increase in the holding period in respect of such units from 12 months to 36 months. Of course not a good news 🙁

Update: On July 25, 2014 the Lok Sabha brought further clarities into these changes in taxation in its Finance (Bill) No. 2, 2014, such as;

1) Unlisted securities and units of MF transferred between 01-Apr-2014 and 10-Jul-2014 shall be deemed to be long-term capital assets, if held for more than 12 months.

2) Long-term Capital Gains on Units of Mutual Funds transferred between 01-Apr-2014 and 10-Jul-2014 shall be taxable at 10% without indexation.

A special small saving scheme will be introduced encourage savings towards education & marriage of girl child.
Traditional investment KVP (Kisan Vikas Patra) has been re-opened.
A Single Demat Account will be introduced which will allow transactions of all financial products.
National Savings Certificate with insurance will be launched to provide additional benefits for the small savers.
Baggage allowance for passengers returning from abroad has been raised from Rs. 35,000 to Rs. 45,000.
The Union Budget makes cigarettes, tobacco, pan masala, gutkha and cold drinks costlier by raising excise duties while CRT TVs used by poor, LCD and LED TV panels of less than 19-inches will be cheaper through cuts in customs duties.
You may download here the highlights of Union Budget 2014-15.
Budget Snapshot 2014-15: Points to be Noted