With the announcement of Union Budget 2015, Finance Minister Arun Jaitley in his first full-year budget did not hike income tax exemption limits, which was done last year. However, he hiked the tax exemption limits of some allowances & deductions. No change in individual income tax slab dampened the enthuse of many who have been curious with the pre-budget hypes. Unchanged home loan interest deduction couldn't get any relief for borrowers as well. Let us look at the quick snapshot of proposals in the union budget which may impact your personal finance and tax matters;
Income Tax Slabs & Rates for Financial Year 2015-16 remain same as Financial year 2014-15;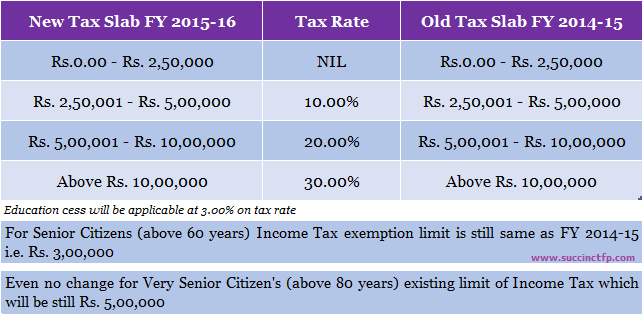 The blow of another 2% of surcharge left super rich stunned. For the FY 2014-15, income exceeding Rs 1 crore was having additional surcharge of 10% of tax, but the same will be now 12%. And this additional 2% is a replacement of wealth tax, which has been  abolished in this budget.
Other list of tax & important proposals are as below;
Transport allowance exemption has been hiked from Rs. 800 to Rs. 1,600 per month.
Contribution to new pension fund has been hiked from Rs. 1,00,000 to Rs. 1,50,000.

Limit of deduction of health insurance premium increased to Rs. 25,000 rupees from Rs. 15,000 rupees; limit increased to Rs. 30,000 rupees from Rs. 20,000 rupees for the elderly

. Will it work for all? What about those, who do not even need to pay higher premiums for health insurance needs?

And additional deduction of 25,000 rupees for the disabled u/s 80U. For severe disability, it is proposed to increase from rs. 1,00,000 to Rs. 1,25,000.

U/s 80DD, deduction limit of Rs 60,000 on expenditure on account of specified diseases is enhanced to Rs 80,000 in the case of senior citizens.
For very senior citizens of the age of 80 years or more, who are not covered by health insurance, deduction of ` 30,000 towards expenditure incurred on their treatment will be allowed.
Service tax rate  increased from 12.36% to 14% (all inclusive). So be ready to pay higher insurance premiums during FY 2015-16. Even expenses on stock trading cost will be more because net brokerage you pay is after service tax only. Of course many more..
Sukanya Samriddhi Account is now EEE. Investments, interest and maturity are tax-free like PFF. Wait..!! do not jump for investment. Refer complete feature, do your analysis of income flow, and actual yields compare to other avenues. Nothing to get emotional because of the name of the product.
Now convert your gold into money. Introduction of a gold monetising scheme, will allow depositors of gold to earn interest on their metal accounts. Another investment avenue!
Quoting of PAN is mandatory for any purchase made more than Rs. 1 Lakh. Benami property transaction bill will be introduced to tackle black money transaction in real estate soon
Basic rate of Corporate Tax to be reduced from 30% to 25% in next 4 years and will be accompanied by reducing exemptions
Proposes tax-free infrastructure bonds for projects in roads, rail and irrigation projects. Let's wait for more updates, but i assume they would be similar in nature i.e. payouts will be tax-free like those issued earlier.
Donation to National Fund for Control of Drug Abuse (NFCDA) to be eligible for 100% deduction u/s 80G of Income-tax Act.
To enact new law for black money, concealment of income to attract 10 years of rigorous imprisonment.
GST to be in place from April 2016
Interesting thing is, Individual tax payer will benefit to the extent Rs.4,44,200/- from the exemptions announced. Now a person with low income with family depending upon, if he/she uses all these deductions, then what will be left, what will he/she feed to his family.
Conclusion: I do not say, the proposal of tax with this budget is a superb, or a flop one. An individual needs to plan his/her finances properly to better use the deductions/allowances, but not necessarily go ahead and do all investment or buy insurances to save tax. Sometime payment of tax will at least leave some cash in hand. Thus "Do not Invest/Spend just to Save Tax, rather do Tax Planning to Save Tax".
Budget Snapshot 2015-16: Points to be Noted