With unveiling third Union Budget for Fiscal Year 2016-17 honorable Finance Minister Mr. Arun Jaitley on February 29, 2016 brought no cheers among salaried class. While making no change in personal Income Tax slabs, making EPF contributions taxable, the FM announced deduction for additional interests of Rs 50,000 per annum for loans up to Rs 35 lacs sanctioned in 2016-17 for first time home buyers, where house costs does not exceed Rs 50 lacs.
Let's look at list of important proposals made during the budget which might affect either positive or negative ways in your personal finance for the AY 2017-18 (FY 2016-17). But it is to be noted that, the announcements are proposals only, but lot of clarities to come out when fine prints are read and discussed and also these are not final things until the 2 Houses pass the Finance bill.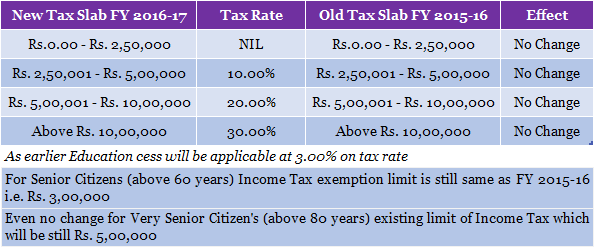 Another increment of 3% more surcharge applicable to super rich income exceeding Rs 1 crore left disappointed. During Finance bill 2015-16 the same was increased to 12% from 10%. With the current budget it has been proposed to make 15%.
Other list of tax & important proposals are as below;
Rebate u/s 87A: With the objective of providing relief to resident individuals in the lower income slab i.e. total income not exceeding Rs. 5,00,000, section 87A is proposed to be amended so as to increase the maximum amount of rebate available from existing limit of Rs.2,000 to Rs.5,000.
Govt. will pay EPF contribution of 8.33% for all new Govt Employees for first three years.
EPF Contributions & Superannuation Fund from April 2016 taxable: EPF contributions made after April 1, 2016 will be partly taxable. As understood, the amount of money you have put in till now, and the interest it will get till you retire that amount is still exempt from tax when you exit. 40% of all contributions done after April 2016 will be tax free, but rest 60% will be added to your taxable income and thus, taxed. Not to forget, here tax applies not on the gain, but on the whole amount. For eg: if 60% forms Rs. 20Lacs, and you are at 30% tax slab, then tax will be Rs. 6Lacs, very bad :-(. Thus you might opt not to put more into PF via VPF or check with your employer for any provision to reduce EPF contributions to minimum of Rs. 800 or 2 % of salary (Basic + DA) whichever was lesser.
National Pension System:  It is also proposed to provide any payment from National Pension System Trust to an employee on account of closure or his opting out of the pension scheme referred to in Section 80CCD, to the extent it does not exceed 40% of the total amount payable to him at the time of closure or his opting out of the scheme, to be exempt from the tax
No Tax on 60% balance Corpus of EPF/NPS if invested in Annuity: Today it has been further clarified through Press Information Bureau Government of India Ministry of Finance if employees place the remaining 60% of the Corpus in Annuity, out of which they can get regular pension, then this 60% of the remaining Corpus invested in Annuity will not be chargeable to tax. So what it means is that the entire corpus will be tax free, if invested in annuity.
No Change in PPF Taxation: There is no change in the existing tax treatment of Public Provident Fund (PPF).
Deduction Amount u/s 80GG Increased: In order to provide relief to the individual tax payers, it is proposed to amend section 80GG so as to increase the maximum limit of deduction from existing Rs. 2000 per month to Rs. 5000 per month. This provsion is is applicable for all the individuals who do not own a residential house & do not get HRA (House Rent Allowance).
Interest Claim Benefits u/s 80EE: Additional exemption upto Rs 50000 for housing loans upto Rs 35 lacs. This incentive is proposed to be available to a house property of a value less than Rs. 50 lacs in respect of which a loan of an amount not exceeding Rs. 35 lakh has been sanctioned during the Financial Year 2016-17. Further, this benefit proposed to be extended till the repayment of loan continues.
LTCG tenure Changed for Unlisted Companies Shares: Tenure of long-term capital gain (LTCG) on sell/transfer of unlisted shares to be reduced from 3 years to 2 years.
Tax on Dividend: Dividend receipt of over Rs.10 lakh per annum to be taxed at 10% which is over and above DDT. This will impact debt funds, making them less attractive for HNIs and corporates.
For Non-Professionals: Proposed to increase the turnover limit to Rs. 2 crores from Rs. 1 crores  under Section 44AD i.e. no audit required upto Rs. 2 crores of turnover and tax is payable on presumptive income of 8% or more. For Professionals; Presumptive income tax scheme under Section 44Ad to all professionals for turnover up to Rs. 50 Lacs with presumptive income of 50 % of gross revenue (optional for the assessee).
Others: Securities Transaction Tax (STT) increased from 0.017% to 0.05 % on options. Krishi Kalyan Cess of 0.5% on all taxable services from 1st June 2016. 1% tax on purchase of luxury cars over Rs 10 Lacs, and in cash purchase of goods and services over Rs 2 lakhs and 1% of Excise duty imposed on articles of Jewelry, excluding silver.
Budget Snapshot 2016-17 Points to be Noted