After so much of speculations such as; change in tax slab, fear of tax being levied on LTCG of Equity investments, today Finance Minister Arun Jaitley announced union Budget 2017-18 to clear all the confusions. Trimming the term of long term holding for immovable property from 3  years to 2 year & reduction in the tax rate for individuals having income in the range of Rs 2.5 Lacs-Rs 5 Lacs bracket to 5%  from the current 10% are the factors of smile in the face of tax payer whereas additional surcharge of 10% for income between Rs. 50Lacs & Rs. 1Cr may not be easy to welcome.
As per the FM, the objective of the budget is to bring people within tax net who are evading taxes, because the present burden of taxation is mainly on honest tax payers and salaried employees who are showing their income correctly. Therefore, post-demonetisation, there is a legitimate expectation of this class of people to reduce their burden of taxation.
Let us look at the quick snapshot of proposals in the union budget which may impact your personal finance and tax matters. But it is to be noted that, the announcements are proposals only, but lot of clarities to come out when fine prints are read and discussed and also these are not final things until the 2 Houses pass the Finance bill.
New Income Tax Slab For AY 2018-19 (FY 2017-18)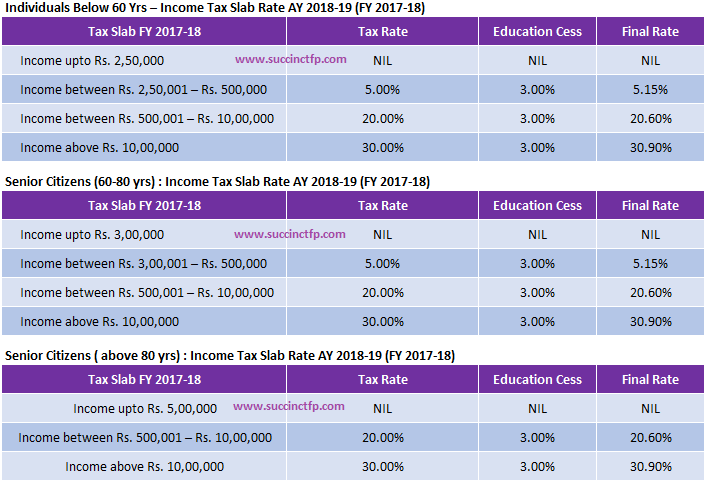 Reduction in Tax Rate: With the combined effect of the Section 87A rebate and the reduction in the lowest slab tax rate to 5.15% (including Cess) the tax burden for those with income upto Rs 3 Lacs would be zero and tax burden those in the Rs 3 Lacs to Rs 3.5 Lacs bracket would be Rs 2,575 (earlier tax was Rs. 5,150) & Rs. 12,875 (earlier tax was Rs. 20,600) for those having income between Rs 2.5 Lacs and Rs 5 Lacs. This way it will benefit all brackets of tax payers. It is to be noted that, Section 87A: The rebate is available to a resident individual if his total taxable income does not exceed Rs. 5 Lacs.
Surcharge: Along with above tax rate additional surcharge has been introduced if the total taxable income exceeds Rs 50 Lacs, but below Rs 1 crore, a surcharge of 10% will be levied & and total taxable income is over and above Rs. 1crore, surcharge will be at 15%.
No Scrutiny for Filing ITR First Time: Simple one-page form to be filed as Income Tax Return for the category of individuals having taxable income upto Rs 5 lakh other than business income. The individual of this category to file Income Tax Return for the first time would not be subjected to any scrutiny in the first year unless there is specific information available with the Department regarding his high value transactions.
Penalty for Delayed Filing of ITR: Taxpayers who do not file their Income Tax Returns (ITRs) on time will have to pay a penalty of upto Rs 10,000 from the Financial Year 2017-18 (Assessment Year 2018-19).
In order to ensure that return is filed within due date, it is proposed to insert a new section 234F in the Income Tax Act to provide that a fee for delay in furnishing of return shall be levied for assessment year 2018-19 and onwards in a case where the return is not filed within the due dates specified for filing of return.
Restriction on Claiming of Loss on House Property: The budget proposes to restrict the loss on house property that can be deducted from 'other heads of income' such as 'salary income' to Rs 2 Lacs. At present there is no limit on the amount of this loss that can be set off against other heads of income if the house property let-out or deemed to be let-out.
A new sub-section 3A in the Section 71, where in respect of any assessment year, the net result of the computation under the head "Income from house property" is a loss and the assessee has income assessable under any other head of income, the assessee shall not be entitled to set off such loss, to the extent the amount of the loss exceeds 2 Lacs rupees, against income under the other head.
Change in LTCG for Real Estate: Reduction in the holding period for computing long term capital gains from transfer of immovable property from 3 years to 2 years. Also, the base year for indexation is proposed will be shifted from April 1, 1981 to April 1, 2001 for all classes of assets including immovable property.
TDS on Rent above Rs. 50,000: Individuals and HUFs paying rent of Rs 50,000 or more per month will now have to deduct 5% tax at source i.e TDS at the rate of 5%, as per Budget 2017 proposals. Such TDS on rent ensures recipients of large rental incomes would be forced to report the full rental income in their tax returns.
Time period for Revising a Tax Return: It is being reduced to 12 months from completion of financial year, at par with the time period for filing of return. Also the time for completion of scrutiny assessments is being compressed further from 21 months to 18 months for Assessment Year 2018-19 and further to 12 months for Assessment Year 2019-20 and thereafter
Other Changes & Announcements are;
A new ETF with diversified CPSE (Central Public Sector Enterprise) stocks and other Government holdings will be launched in 2017-18.
Tax rates for Companies with annual turnover up to Rs 50 crores to be reduced to 25% to strengthen MSME sector. MAT credit proposed to be carried forward up to 15 years instead of 10 years
Presumptive Income U/s 44AD for digital receipts or banking means is reduced to 6%. Threshold limit for audit of entities opting for Presumptive Business u/s 44AD is increased to 2 Crores.
Under Presumptive taxation for Professionals (44AD) with Receipts up to 50 Lakhs, Advance Tax to be paid in single installment instead of four.
Goods and Service Tax (GST): Preparation of IT system for GST is also on the schedule. The extensive reach-out efforts to trade and industry for GST will start from 1st April 2017 to make them aware of the new taxation system.
No transactions above Rs 3 Lacs should be permitted in cash
Commission payable to individual insurance agents exempt from the requirement of TDS subject to their filing a self-declaration that their income is below taxable limit by submitting Form 15H.
Refer below for more details:
Key Features of Budget 2017-2018
Budget Snapshot 2017-18 Points to be Noted