Finance Minister Arun Jaitley presented the general budget 2018-19 in Parliament on Thursday, February 1, 2018. Apart from introducing standard deduction of Rs 40,000, there is nothing great for salaried class and investors. Then comes the blow i.e. taxing LTCG.!!
Let us look at the quick snapshot of proposals in the general budget which may impact your personal finance and tax matters.
Income Tax Slab (Unchanged): There was a lot hope in increasing the personal income tax slab, but it remain unchaged which was anounced for FY 2016-17. Surcharge of 10% on income above Rs 50 lakh, but less than Rs 1 cr and 15% on income above Rs 1 cr to be continued.
Increase in Cess: Education cess of 3% is replaced with new Cess at 4% which is called "Health and Education Cess". This ultimatley increases total tax liability by 1% on tax. For e.g. for taxable income of Rs. 20,00,000, the income tax was Rs. 4,12,500 with additional Educations Cess of Rs. 12,375 for FY 2017-18, but now the cess i.e. Health and Education Cess will be Rs. 16,500.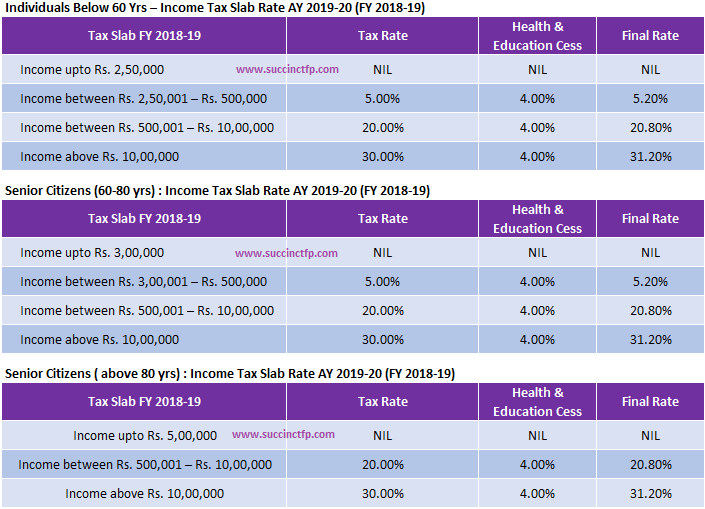 Standard Deduction: Standard Deduction of Rs. 40,000 in place of present exemption for transport allowance and reimbursement of miscellaneous medical expenses which will benefit salaried employees and pensioners.
Relief to Senior Citizens:
TDS not required to be deducted under section 194A. Benefit also available for interest from all fixed deposit schemes (with banks and post offices) and recurring deposit schemes.
Hike in deduction limit for health insurance premium and/ or medical expenditure from Rs. 30,000 to Rs. 50,000 under section 80D.
Increase in deduction limit for medical expenditure for certain critical illness from Rs. 60,000 (in case of senior citizens) and from Rs. 80,000 (in case of very senior citizens) to Rs. 1 lakh for all senior citizens, under section 80DDB.
Proposed to extend Pradhan Mantri Vaya Vandana Yojana up to March, 2020. Current investment limit proposed to be increased to Rs. 15 lakh from the existing limit of Rs. 7.5 lakh per senior citizen.
Tax on Long Term Capital Gains: LTCG on Stocks/Equity oriented mutual funds schemes exceeding Rs. 1 lakh at the rate of 10 percent, without allowing any indexation benefit. However, all gains up to January 31, 2018 will be grandfathered. However STCG will continue to be taxed at 15%.
Let us look at an example;
If an investment into equity share (or equity oriented MF scheme) is purchased 6 months before January 31, 2018 i.e.
Date of Purchase August 1, 2017 & Investment of Rs 1,00,000. The highest price quoted on January 31, 2018 in respect of this investment is Rs 1,50,000, but sold on September 1, 2018 at Rs. 3,00,000 which makes total LTCG of Rs. 2,00,000 then there will be no tax on the gain of Rs 50,000 (grandfathered first highest gains recorded before January 31, 2018), but remaining Rs. 1,50,000 (i.e. Rs. 2,00,000 – Rs. 50,000) will attract 10% tax barring Rs. 1,00,000 i.e. 10% on Rs. 1,50,000 – Rs. 1,00,000.
There is also a proposal to introduce dividend distribution tax (DDT) by equity oriented mutual funds at the rate of 10 percent.
Change in EPF for Women Employees: FM has proposed to make amendments in the Employees Provident Fund and Miscellaneous Provisions Act, 1952 to reduce women employees' contribution to 8% for first three years of their employment against existing rate of 12% or 10% with no change in employers' contribution.
Refer below source of information for more details;
Highlights of General Budget 2018-19
Budget Snapshot 2018-19 Points to be Noted