The Cost Inflation Index (CII) for the  Financial Year 2014-15 has been announced by CBDT (Central Board of Direct Taxes) at 1024 vide Notification No. 31/2014, Dated: June 11, 2014. Now Capital Gain Index for Financial Year 2014-15 is 1024.
Cost Inflation Index(CII) is a measure of inflation which is used for computing long-term capital gains on sale of capital assets.
Notification No. 31/2014, Dated: June 11, 2014
S.O. 1498(E)- In exercise of the powers conferred by clause (v) of the Explanation to section 48 of the Income Tax Act, 1961 (42 of 1961), the Central Government hereby makes the following amendment in the notification of the Government of India in the Ministry of Finance (Department of Revenue), Central Board of Direct Taxes published in the Gazette of India, Extraordinary, vide number S.O. 709(E), dated the 20th August, 1998, namely:-
2. In the said notification, in the Table, after serial number 33 and the entries relating thereto, the following serial number and entries shall be inserted, namely:-
Sl. No.


F.No.142/3/2014-TPL
(Ashis Mohanty)
Under secretary to Government of India
For the previous Financial Year 2013-14 the said CII was at 939.
Cost Inflation Index for the Financial Year 2012-13 was at 852.
Below the list of Cost Inflation Index since FY 1981-82 upto FY 2014-15. This also shows at what pecentage year on year CII increasing compare to its immediate previous financial year.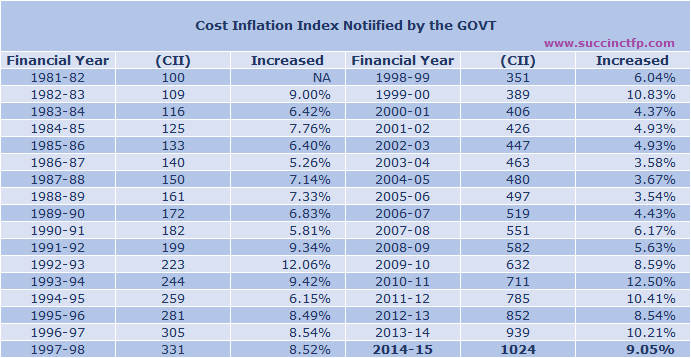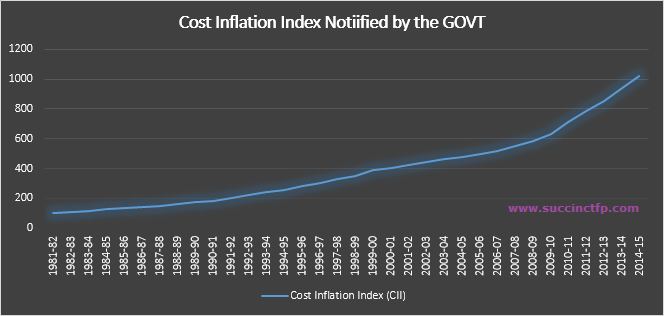 Cost Inflation Index (CII) for FY 2014-15 is "1024"; Trend Since 1981