CBDT (Central Board of Direct Taxes) has announced the Cost Inflation Index for the Financial Year 2012-13 .
Now Capital Gain Index for Financial year 2012-13 is 852
FYI: Cost Inflation Index is used to calculate Long term capital gain on sale of Capital assets.
Long term capital gain in case of assets other than securities is applicable where holding period of asset is more than 3 years and in case of securities the period is one year.
Cost Inflation Index Notiified by the GOVT
Financial Year
(CII)
Financial Year
(CII)
1981-82
100
1996-97
305
1982-83
109
1997-98
331
1983-84
116
1998-99
351
1984-85
125
1999-00
389
1985-86
133
2000-01
406
1986-87
140
2001-02
426
1987-88
150
2002-03
447
1988-89
161
2003-04
463
1989-90
172
2004-05
480
1990-91
182
2005-06
497
1991-92
199
2006-07
519
1992-93
223
2007-08
551
1993-94
244
2008-09
582
1994-95
259
2009-10
632
1995-96
281
2010-11
711
Financial Year
(CII)
2011-12
785
2012-13
852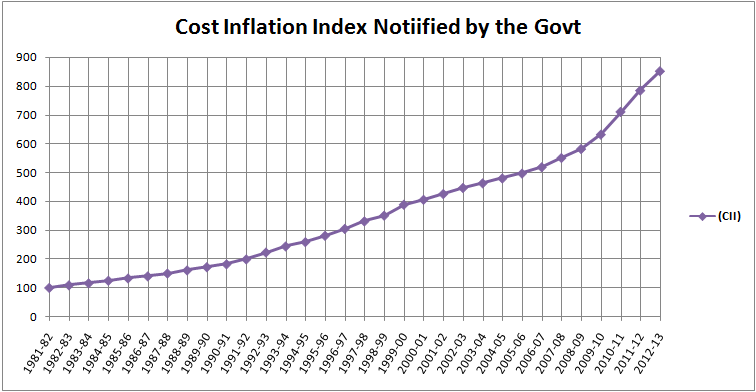 Cost Inflation Index for the Financial Year 2012-13