Of course by now it's not a news that tax implication on debt fund has completely been changed than what was there earlier. The union budget 2014-15 presented on July 10, 2014 brought about certain changes in taxation of debt fund that marked a paradigm shift in the investment horizon for none equity funds. According to the new tax rules on debt funds, the investor has to hold the funds for at least 36 months to qualify for the 20 per cent capital gains tax (with indexation). If the debt mutual units are held for less than 36 months, it would be taxed according to the investor's tax slab. Eventually this brought debt funds at par with bank fixed deposits in terms of taxation, if it is held for less than 36 months.
Since the change announced during half-way of the financial years, it created lots of confusion with regards to applicability of the law. Whether it is going to be a retrospective one or it is applicable on or after July 10, 2014?
Any gains realised out of Debt Funds/Non-Equity Funds between April 1, 2014 and July 10, 2014 will attract the old taxation rules of long-term capital gains of 10% (without indexation) or 20% (with indexation) if they are held for more than a year. Such funds would be taxed at income tax rates if they are held for a period of less than a year. The new Budget 2014 rules on debt funds will apply to all redemption/switch/transfer made after 10 July. Thus no retrospective effect applies here.
There is no changes in taxation of equity schemes. Long-term capital gains on listed equity stocks or equity mutual funds (held for more than 12 months) are not taxed. But short-term gains (held for less than 12 months) are taxed at 15%.
The following table shows new tax provisions applicable to the respective mutual fund categories;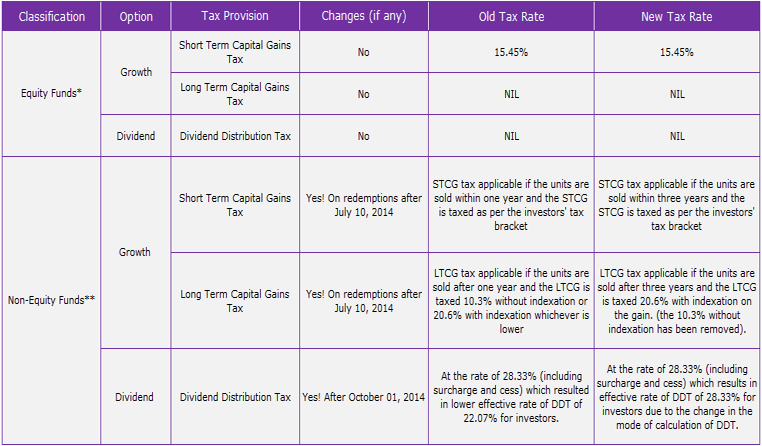 *Equity funds include; Equity Diversified, Equity Sector, Hybrid‐Equity Oriented (more than 65% equity), Arbitrage Funds, Equity ETFs.
**Non-Equity funds include; Gold ETF, Liquid ETF, Liquid Funds, Ultra Short Term Funds, Floating Rate Funds, Short Term Income, Dynamic Income, Income funds, Gilt Funds. Hybrid‐Debt Oriented (less than 65% equity), MIP, FMP, Gold Funds, Global Funds.
Tax rates include applicable education cess of 3%. It is to be noted that additional surcharge of 10% on tax will be levied if individual's income is more that Rs. 1 crore per year
Change in Dividend Distribution Tax: Now Dividend Distribution Tax (other than equity oriented funds) has to be calculated on "Gross" distributed income, whereas, earlier it was calculated on "Net" distributed income.
Debt Fund (Non-Equity Scheme) taxation post Finance Bill (No.2), 2014