I receive many queries with regards to avail tax benefits against repayment of home loan. These are mostly related to joint loan, loans from friends and relatives to purchase/construct house property etc. Some of the queries are;
Question…"My spouse (house wife) owns a house property (Sole Owner), but I do all the repayment of home loans; can I take tax benefits for such repayment towards borrowed capital?"
Question…"I took a loan from my friend to buy a house property, can I get any benefit if I repay my friend with interest?"
Question…"Me and my spouse have joint loan (wife has no income and name sake co-applicant of loan), can I be benefited for the deduction at 100% since all the repayments are being done by me?"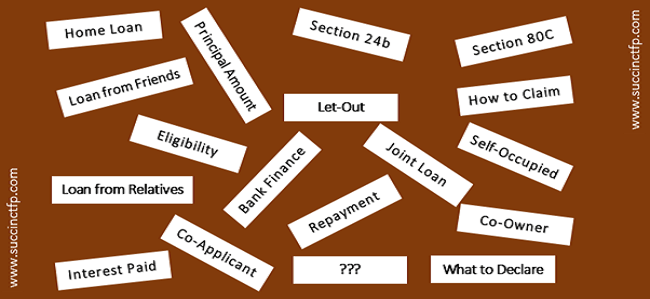 There is no end to such queries until there is something clearly (I mean straight answer) written in the rule book of IT Law. In this article I tried to bring in some general (but frequent) queries from borrowers which will be justified with some logics.
A – House Property is owned by wife and loan repayments are done from Husband's Income fully:
I must say it's a duty for every spouse to take the responsibilities of his/her partner in all means, and there is nothing bad to know what former gets in return (in good sense of course 🙂 ) from the later.
There are many instances where a residential plot/property has been acquired/owned by wife and later through bank finance, construction or further renovation starts. Some cases wife has no income, so husband makes all the repayment of principal and interest towards the borrowed capital. Now the question arise; is the husband eligible to get interest & principal deductions u/s 24b & 80C respectively even though he is not the owner of the property?
To answer to the above question, first you need to understand how the property was actually acquired and what is the loan structure (like holder/holders of the loan)?
Situation 1: The property might have been acquired by wife through gift from parents or inheritance property.
In such case any loan taken jointly with husband or singly, husband will not be entitled to get any tax benefits of principal repayment u/s 80C and interest deduction u/s 24b even if he serve the loan repayment from his income. It doesn't matter whether husband makes all (or part of) the repayments. It is even immaterial whether he is a first applicant or sole applicant or not an applicant at all. To claim tax benefits, husband needs to be the owner (or co-owner) of the property.
The solution may be; if both the spouse enter into an agreement where wife declares to sell and transfer part of the ownership of the house property to husband, then husband will be able to claim the tax benefit. Such sell/transfer requires prior permission of the lender.
Situation 2: The property has been acquired in the name of wife only, but source of fund is husband.
Here the fact is that the property may have been purchased in wife's name may not mean that the property belongs to her. If the said house property has been purchased out of husband's own funds (but property in wife's name) then husband becomes the actual owner of the property. To claim income tax deduction, husband needs to make a declaration with the Assessing Officer (AO) under Benami Transaction Act 1998, stating that he is the real owner of the property though registered in his wife's name. Once it is done, he will entitled to all deductions available to an owner of the Property relating to repayment and interest on housing loan under the Act.
B – Husband and wife are co-owners of house property and also co-applicants of Home Loan, but all the repayments are being done by husband alone:
In this scenario, husband can very well claim income tax exemption as specified under the act. If the husband is the only person repaying the loan, then he can claim the entire tax benefit for himself (provided he is an owner or co-owner). Both the spouse should enter into a simple agreement where wife should be stating that husband will be repaying the entire loan. This applies vice-versa where husband and wife are co-owners of house property and also co-applicants of Home Loan, but all the repayments are done by wife alone.
C – Loan taken from Friends & Relative to construct or purchase of House Property:
Any interest payment to friends and relatives in respect to capital borrowed  from them can be claimed u/s 24b, but only against a certificate received from them. In the absence of the certificate, you would not be eligible for the deduction. Interest repayment to friend or relative for such borrowed capital will be treated as income for them in the financial year in which it is received and they are required to pay taxes on such income. As far as the principal payments are concerned, they would not qualify for tax benefit as loans only from notified institutions and banks are eligible for such deductions u/s 80C.
D – House is bought jointly with wife and home loan taken jointly. Repayment is also happening jointly:
If wife is working and has a separate source of income, both of the spouse can claim separate deductions in their respective income tax returns. The repayment of principal amount of the loan can be claimed as a deduction under section 80C up to a maximum amount of Rs.1 lakh individually by each co-owner. If the house property is self-occupied by each co-owner, each co-owner shall be entitled to the deduction individually on account of interest on borrowed money up to a maximum amount of Rs. 1.5 lakh. If the house is given on rent, then there is no restriction on this amount. Both co-owners can claim deductions in the ratio of ownership.
It is immaterial what the repayment mode is with regards to avail deductions. EMIs can be served from a joint account, from two different accounts owned by each co-applicant respectively or from a single account either from husband or wife.
Home Loan Deductions; if you are not the Owner or Loan taken from Friends & Relatives