"If I take tax benefits on Interest payments for my home loan then I will loose HRA (House Rent Allowance) claims". This is what shared by one of the clients. Then I asked.. "Who Said..??"
This is in fact a confusing situation for most tax payers. Let me tell you, as per the Income Tax Act you can avail tax benefits for HRA, interest on housing loan till you fulfill certain required conditions. House Rent Allowance (HRA) is covered u/s 10(13A) of the Income Tax Act while Interest on borrowed capital for acquisition or construction of house property is covered u/s 24(b) of the Income Tax Act. The deduction for payment of principal component of such home loan is granted under section 80C of Deduction under Chapter VI of the Income Tax Act.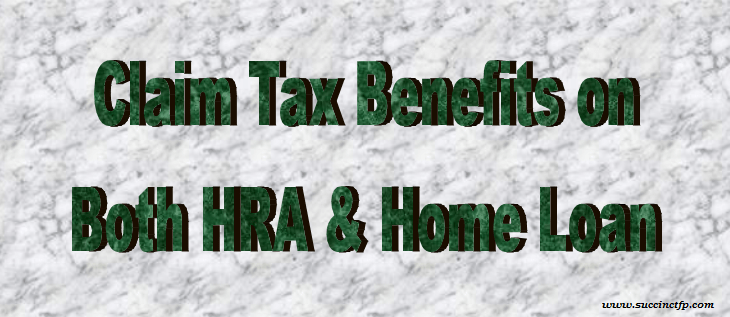 These two components (HRA & Interest on Home loan) are handled in two different income tax sections and has no interlink with each other. One can claim both HRA and interest on home loan irrespective of the place of stay, office until and unless he/she satisfies the necessary conditions to claim such deduction or exemption.
Let us find out some situations where one can claim both HRA exemptions and benefits of interest payment on Home Loans.
Situation 1: You own a House in another city: 
You can very well claim HRA exemption and deduction on interest on home loan if you own a house in city other than your current residing city and presently you are in a rented accommodation. For example, you have purchased a flat in Pune through bank finance and you have been paying regular EMIs, but for employment purpose you are currently sating in Bangalore in a rented apartment. In such case you will be entitled to HRA exemption and tax benefits on both, the principal u/s 80C and interest repaid on the home loan u/s 24b.
It doesn't matter whether your Pune property is actually rented or left vacant, but yes it should not be an under construction stage else you will not be able to claim deductions for principal repayment and interest payments. Once the construction of the house is completed, you can claim tax benefits on the total interest paid up to the date of completion in five equal installments in five years beginning from the year of completion.
Situation 2: You are staying in a rented house in the same city where you have your own house: 
For example; you have bought a house for which you are repaying principal and interest on the loan taken for it, but now you aren't residing in it for some genuine reasons like, the house that you have bought is far away from your office, thus you opted to stay in a rented house in the same city, which is nearer to your office. Basis such exceptions you may be permitted to claim HRA and home loan benefits which include both principal and interest repaid on the home loan. But do remember, even if the house owned by you is left vacant you need to pay taxes on the notional rental income under the head of income from house property. It has been noticed, even though tax payer has no trouble in staying in his/her own house or cases like, where tax payer stays in a rented house and keep his/her own house as let-out in the same/not so far locality to avail tax benefits by way of HRA exemption and loan benefits. This will be simply treated as tax evasion. So be careful.
Situation 3: You have a Self-Occupied House Property which is not actually Occupied by you:
Suppose you stay in a rented accommodation in New Delhi for employment purpose and at the same time your family stay in a house property owned by you in Bangalore. You are also repaying loan EMIs for this Bangalore house property. In such case you can claim both HRA and benefits on Home Loans.
Under section 23(2) of Income Tax Act says, Where the property consists of a house or part of a house which;
Is in the occupation of the owner for the purposes of his/her own residence; or
Cannot actually be occupied by the owner by reason of the fact that owing to his/her employment, business or profession carried on at any other place, he/she has to reside at that other place in a building not belonging to him/her,
In such case Annual Value of the self-occupied house property (Bangalore property as per example) will be "NIL". Standard deduction of 30% will not be allowed here as the annual value itself is nil, however you will be eligible to claim deduction on account of interest repayment on home loan for the self-occupied house property. You can also claim deduction of principal repayments u/s 80C to the max limit of Rs. 1,00,000.
Situation 4: Staying with parents/siblings, also paying rent to them:
If you are staying with your parents or siblings, you can pay them rent to claim House Rent Allowance exemption. This is possible only if the property is registered in the name of your parent/sibling. Only thing what you have to do is to show that you are paying rent to your parents/siblings. Just make sure that your parents or siblings are filing I-T returns.
But if you are paying rent to your spouse and you are getting the receipt for the same, you cannot claim a deduction. The relationship between a husband and wife is not commercial in nature. After all, a husband and wife are supposed to stay together. Hence, payment of rent to a spouse may not be accepted by the income tax authorities.
Also you should keep it in mind, there should be a genuine reason for staying on rent in a close relative's house else the tax authorities might suspect the transaction to be a tax-evading trick.
How to claim tax benefits on both HRA & Interest on Housing Loan?