Any Income from house property should be a part of your total income from other various sources such as salary, capital gains, business/profession and other income like winning from lottery, horse race etc. Mostly such Income from house property are in the form of rental income, even some time these incomes can be negative; for example, you have taken a home loan and you are paying the interest on the outstanding loan principal amount. If the house property is self occupied where obviously no rental income can be generated then these interests paid will be treated as loss (negative income) from house property. And the best part is you can claim such losses to reduce your net tax liability, but upto certain limit.
You might want to read Know the benefits of Property Investment, Taxation and its Tax Planning
In this article I will explain you how you can compute any income (including negative income) from house property which is very much required for filing annual total income tax returns.

The term 'House property' consists of buildings or land belongs to such buildings. Income from letting out of vacant plots of land when there is no adjoining buildings will not be taxed under this head (but is taxable either under the head 'Profits and Gains of Business or Profession' or under the head 'Income from other Sources', as the case may be). The existence of a building is therefore an essential prerequisite for taxation of Income from House Property. 'Building' will include residential house (whether let out or self-occupied), office building, factory building, godowns, flats etc. But, the purpose for which the building is used by the tenant is also immaterial. It does not make any difference at all if the property is owned by a limited company or a firm. However, if the building or part thereof is used by the owner himself for the purpose of his own business then there will be no income from such portion of the house property.
In order to calculate income from house property, you need to know the Annual Value of the house property. As per Section 23(1)(a) of the Income Tax Act, Annual Value of a house property is the sum for which the property might reasonably be expected to be let out from year to year. So it is the notional rent which could be received if the property were to be rented.
There are two types of tax deductions available on income from property apart from the actual municipal taxes paid. The first is standard deduction of 30%. This means 30% of the rental income can be reduced as a standard deduction for repairs, maintenance etc. irrespective of the actual amount spent, if at all, during the financial year.
The second deduction, which is over and above the 30% standard deduction, is to do with interest u/s 24 on mortgage finance if the property is purchased on mortgage for the purpose of acquisition, construction, re-construction, repairs, renovation etc.
Deduct Municipal Tax
From Gross Annual Value, deduct Municipal Taxes (including Service Tax) levied by any local authority in respect of the house property. Municipal Taxes are deductible only if,
1. these taxes are borne by the owner , and
2. are actually paid by him during the previous year.
Municipal taxes, levied by local authority but not paid by the assessee during the previous year are not deductible. The remaining amount left after deduction of Municipal Taxes is Net Annual Value (NAV)
Deduction Under Section 24
As stated above there are basically two types of deductions are available under section 24, such as Standard Deduction u/s 24(a) and Interest on Borrowed Capital u/s 24(b). No deductions can be claimed in respect of any expenditure which is not specified in Sec. 24. For instance, no deduction can be claimed in respect of expenses on insurance, ground rent, land revenue, repairs, collection charges, electricity, water supply, salary of liftman, etc.
A. Standard Deduction [Sec. 24(a)]: 30% of net annual value id deductible irrespective of any expenditure incurred by the taxpayer.
B. Interest on Borrowed Capital [Sec. 24(b)]: Interest on borrowed capital is allowable as deduction, if capital is borrowed for the purpose of purchase, construction, repair, renewal or reconstruction of the property.
What needs to be kept in mind?
If capital is borrowed for the purpose of purchasing a plot of land, interest liability is deductible even if construction is financed out of own funds.
Interest on borrowed capital is deductible on "accrual" basis. It can be claimed as deduction on yearly basis, even if the interest is not actually paid during the year.
Interest on unpaid interest is not deductible.
No deduction is allowed for any brokerage or commission for arranging loan.
Interest on a fresh loan, taken to repay the original loan raised for the aforesaid purposes , is allowable as deduction.
In case of let-out property interest on borrowed capital is deductible fully without any maximum ceiling.
Read update Feb 11, 2017: Govt restricts tax benefit on let-out property to Rs 2 Lacs for FY 2017-18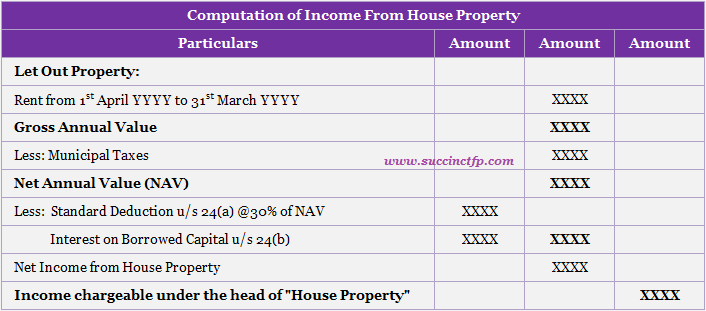 In case of Self-Occupied Property
For self-occupied property, rental income will be taken as 'NIL' in the above calculation. The rental income is zero because you stay in that property and it doesn't earn any rent. Thus, the income from a self-occupied property will always be zero or negative (to the extent of interest paid or the specified limit, whichever is lower). Accordingly, you cannot subtract municipal taxes nor can we deduct any standard deduction. But, you can still deduct the interest paid on the loan availed subject to a specified limit.
This loss from self-occupied property can be adjusted against your income from other sources such as salary, capital gains, business, etc and hence reduce your overall tax liability.
If you own more than one property, you can designate any one of these as self occupied property and pay tax on the others. It is advisable to choose the property where you have to pay minimum municipal tax as self occupied property. You can change the self occupied property every year
For the self occupied property, there is a limit to the interest that you can deduct. If the property is acquired or constructed after April 1, 1999 (and such acquisition/construction is completed within three years) then you are allowed to claim deduction of interest up to Rs. 1,50,000. For loans taken to reconstruct the house (and those taken prior to April 1, 1999), the limit is only Rs. 30,000.
In case of a self occupied house, since the annual value is NIL and only the interest is allowed as deduction (subject to a maximum of either Rs. 1,50,000 or Rs. 30,000), the income is negative to the extent of the actual interest.
How to Compute Income from House Property? Let-Out (Rented) and Self-Occupied