W.e.f. June 1, 2013 new provision under section 194IA has been introduced, where 1% Tax Deducted at Source or TDS will be levied on sale/transfer of immovable property (other than agricultural land) exceeds Rs 50 lakhs. As per this section, as a buyer of property you are required to deduct TDS and provide TDS certificate to the seller of the property. This certificate is known as Form 16B.
To generate/download Form 16B, you need to first make the tax payment using e-TAX payment option i.e. Online form for furnishing TDS on property (Form 26QB). After making payment of the deducted TDS amount through Challan 26QB, you can see it in your form 26AS reflecting with break up for each amount paid and acknowledgement number for that.
How to Download Form 16B?
This is very simple and easy; all you need to do is, register yourself as a tax payer at TDS Reconciliation, Analysis and Correction Enabling System i.e. in short TRACES and then through your tax payer login you will be able to download it.
Please note, you are required to register yourself as a Tax Payer not as a Deductor
Steps to register for TRACES:
Visit TRACES -> From the right hand side of the traces portal select Register as a New User -> Tax Payer as shown below.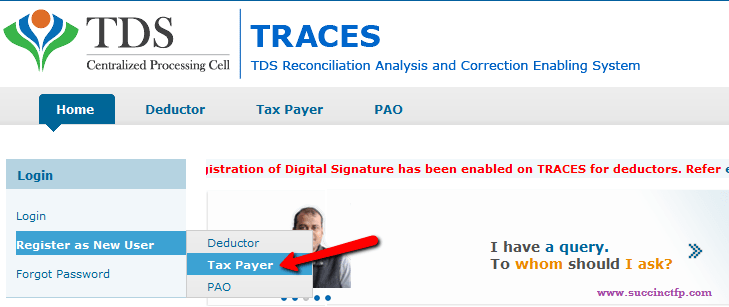 Now fill up all your details like PAN, DOB or DOI, name etc. With this you have to fill up either option 1 or option 2 to get registered. If you do not have TAN (of course payment of TDS u/s 194IA doesn't require TAN), then you can try option 2 with your latest Challan Serial Number and TDS paid amount. In case you hold TAN, then it's better and easy to register via option 1.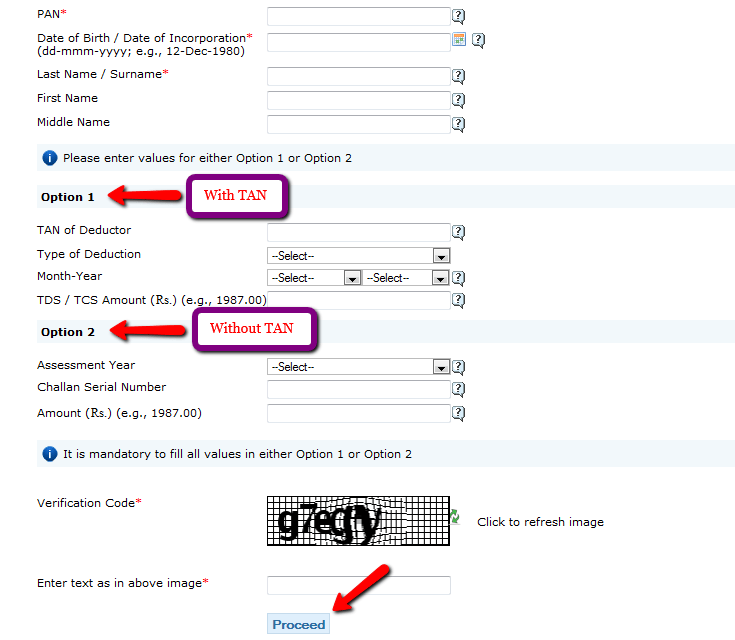 After filling up the text, click on Proceed. You will be now displayed with an option to enter your details like mobile number, address, email ID and then password. By default your PAN number will be the user ID for logging in as a Taxpayer.
After this step you will be sent with a PIN to the mobile number that you entered while registering and a link to your email id for activation. To activate your account you need to click on that link from your email id and enter the activation code to activate.
Download Form 16B
Now, login to your account as a taxpayer as discussed at the beginning and from the download section click on form 16B. You need to enter your details like acknowledgement number to send the request for downloading form 16B. After sometime you can check the same section for downloading form 16B. Click on download to save it to your PC.
Now you have your Form 16B which you can be signed and sent to the seller.
In between if you find any difficulties then you can contact customer care through email: contactus@tdscpc.gov.in or call at Toll-Free number at 1800 103 0344
How to download form 16B – TDS certificate for Sale of Property u/s 194IA