When you've multiple insurance policies (Life insurance, Health insurance, General insurance & Annuity policies etc.) & having a single account to manage them makes the life much easier, Isn't it? This is possible through e-Insurance Account (eIA). An e-insurance account is an electronic insurance account where your insurance policies will be stored in the digital form. Here you can store policies from different insurance providers in the same e-insurance account. With such facilities, you do not have to worry about losing your insurance papers.
Below user interface of CAMS Repository to get an idea how an e-Insurance Account looks like;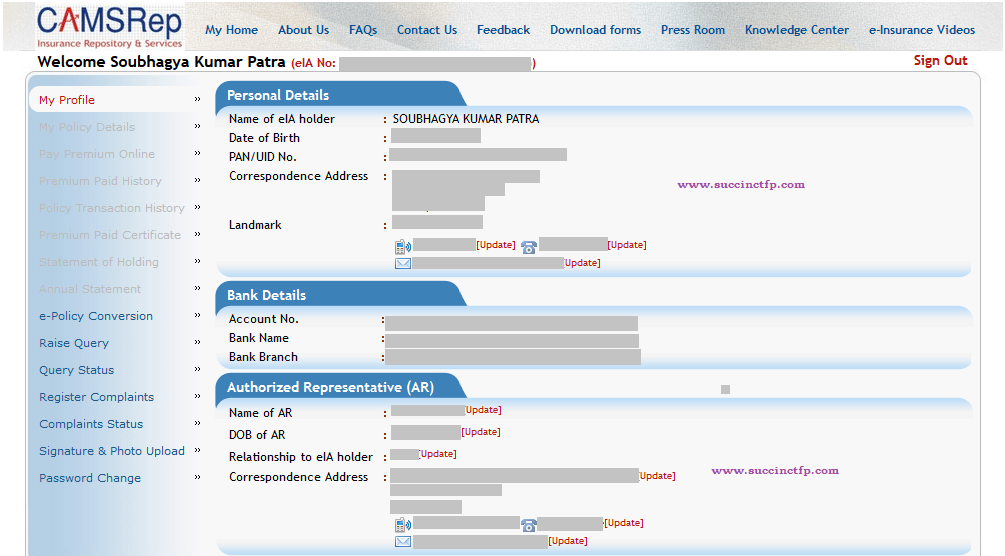 Policy Details

To open an eIA, you need the fill out an account opening application form of the Insurance Repository along with the necessary supporting documents. The IRDA guidelines on e-insurance state that one individual can have only one e-insurance account.
Read here to know about Insurance Repository, e-Insurance Facility & the list of authorised entities as Insurance Repository.
See below table of IRDA's criteria & norms for mandatory issuance of e-Insurance to be full-filled by every insurer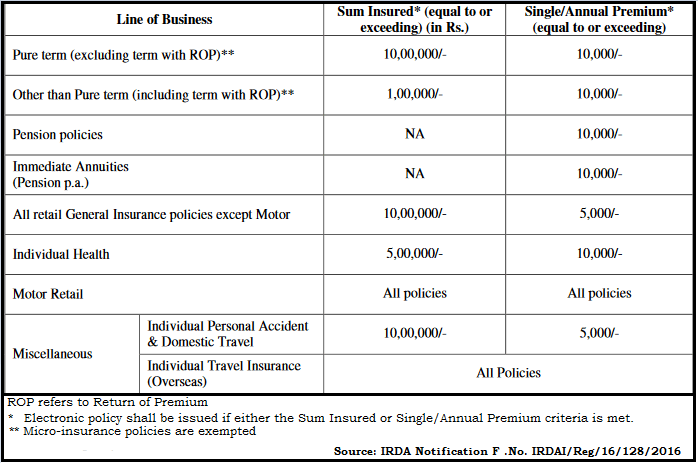 Let us look at how to Open an e-Insurance Account (eIA) & figure out what and all it covers
Process of Form Filling: You can open an eIA with any one of repositories of your choice. So visit the website of the repository to download the e-insurance account opening form. You can also fill online application form. You will have to attach the required KYC documents with the application form and submit it (KYC is one time, but do not confuse it with mutual fund KYC if already done). When submitting your eIA application, please ensure that you provide copies of your ID proof (PAN or Adhaar), address proof, proof of date of birth, along with a passport size photograph, bank details & cancelled cheque. You also need to show the original of address &ID proofs for verification. Your eIA will be opened within 7 days of the receipt of the application (I got it activated on the same day evening :-))
Once Application is Accepted: Once your application is accepted, you will get confirmation email & SMS followed by account creation instruction with the help of PINs (via SMS & email). You can then add or modify contact details (except address which has to be in separate service request form). You can access of all your insurance polices through one common interface (but this will take some time because repository will further send your declarations to respective insurers to convert policies into eFormats).
You can buy new insurance in an electronic format once you have e-insurance account enabled (not through eIA) and you just need to quote your unique e-Insurance account number in your new insurance proposal form and make a request to issue policy in an electronic form. Since KYC documents are already submitted with repository, so there is no need to repeat these procedures again with new insurance policies you buy.
You also have the option to add authorized representative or you can do so at the time of applying eIA. Authorized Representative can be changed online or by making a request to the Insurance Repository. An Authorized Representative is a person who is appointed by e-Insurance account holder to operate his/her e-Insurance account in case of unfortunate demise or incapability of e-Insurance account holder to operate the account.
FAQ on Insurance Repository & e-Insurance Account
Read below for all probable questions & answers as extracted from IRDA FAQ lists;
<![if !IE]><![endif]>
How to Open e-Insurance Account (eIA); Know all About It!