On January 1, 2013 most of the mutual fund houses rolled out a new plan under all of their existing products – the "Direct Plan". In such plan investor can directly invest with the AMCs without routing their investment through brokers. The main difference between the Direct Plan and the Regular Plan (existing plan) is the expense ratio which is lower in case of Direct Plan compare to a Regular Plan, because the fund houses are required to incur higher expenditures to third party such as; marketing, transaction, custodian and operating cost. Thus with direct investment option investors will get the NAVs with lower cost. Now, investors can avoid paying these commissions and it will translate into more returns every year. Normally a Direct Plan is expected to be cheaper by about 0.5% to 1% p.a. for Equity Funds, 0.1% to 0.5% p.a. for Debt Funds and 0.05% to 0.15% p.a. for Liquid Funds.
These Direct Plans are only for investors who purchase /subscribe units in a scheme directly with the Fund (i.e. investments not routed through an AMFI Registration Number (ARN) Holder ("Distributor"). That means it is not available for investors who route their investments through a Distributor (Such Banks, Brokerage House, Individual Agents etc)
In September 13, 2012, market regulator SEBI came out with several reforms in Mutual Funds and launching Direct Plans was one of them. Now, every AMC has launched "Direct Plans" which allow investors to invest directly with the AMC without paying the distributor commission.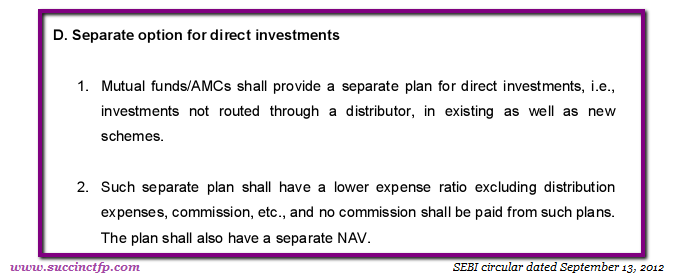 In short how does it impact you?
Investors in a Direct Plan will get relatively higher returns compared to the Regular Plan. The fund management charges of Direct Plans are lower than the Regular Plans and this is translated to higher returns in the hands of investors. The difference of .05%-1% looks small, but since it is a recurring expense in the long run it can make a reasonable difference. Hence Direct Plans are likely to give a higher return year on year when compared to Regular Plans; and with compounding effect over a long period of time, this difference could be significant.
You might want to read my earlier article on How higher Expense Ratios eat into your MF's future growth

Different expenses of Direct and Regular Plans result in different NAVs for both plans. Investments under the Direct Plan are open to all investors who choose to invest without a distributor. The scheme's portfolio will be the same for both, Regular plan and Direct Plan. Also, the scheme characteristics such as Investment Objective, Asset Allocation Pattern, Investment Strategy, Exit Load, risk factors, facilities offered and other terms and conditions will continue to be same.
Here I share with you the comparison of prevailing expense ratio of few top MFs for your better understanding;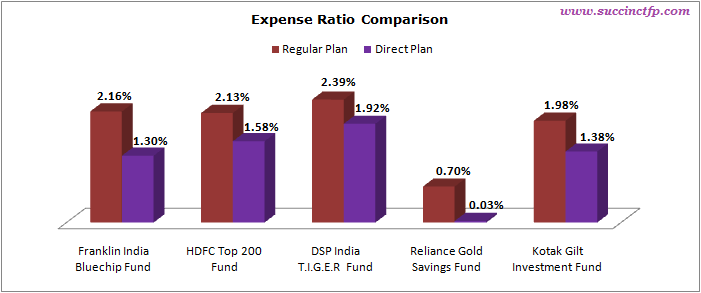 Now with the above Expense Ratio Comparison you must have got the idea how much a Regular Plan costs than a Direct Plan. To give you more clarity I have tried to pick two funds randomly and recorded their NAV starting from when they have introduced their respective Direct Plans and till May 30, 2013 and found the below gradual variations. See below example with HDFC Growth & L&T Equity Fund's NAV since January 2013 till May 30, 2013 under Regular & Direct plan respectively and observe the NAV Difference & Percentage changes in each case.

On and after January 1, 2013 when fund houses started introducing Direct Plan for their respective Regular Plans (Existing Plans) the NAV for Regular Plan & Direct Plan were same, but post that you might have seen there is a gradual decease in NAV price of Regular Plan than Direct Plan of the same fund even through the portfolio, fund managers are same. This is because whenever the NAV declared by the fund house at the end of the day, it has to adjust the cost (expenses) involve in it. Since the cost of Direct Plan is lower compare to Regular Plan, you would have seen the little difference in NAV figures. As the expenses are recurring, thus there will be a gradual impact as the days pass.
In the above comparison you can see on January 1, 2013 the NAV for HDFC growth under Direct & Regular plan were same, but gradually there is an impact on both of these NAVs as expense ratio gets adjusted and finally on May 30, 2013 you can see a clear difference of ~0.20% even though there is no difference between the portfolio's of Direct Plan and Regular Plan. Same is the case with L&T Equity Fund – Regular Plan which has shown a difference than its Direct Plan of ~Rs.0.25 by now since January 2, 2013.
For the purpose of better clarification I assume Mr. Investor started with Rs. 2,50,000 each in 10 different funds under Regular Plan (Existing Plan) category in growth option from the date when exactly Direct Plan of respective schemes have been introduced. Here we will see by May 30, 2013 whether Mr. Investor has any opportunity loss/profit for not investing through Direct Plan route.

With the above portfolio value as on May 30, 2013 it's clearly visible that Mr. Investor's portfolio has an opportunity loss of Rs. 6,320 in just 5 months time frame since the Direct Plan is introduced.
Can you even imagine how these small differences in expense ratios today is going to impact in long run? No! Then let me give you more shock with an illustration. Let us assume the current investments have been continued and simultaneously same value of direct investments have been running for the next 1 year, 5/10/15/20/25 years respectively.
I also have assumed an average yearly expense ratio for the portfolio at 2.00% for Regular Plan & 1.50% for Direct Plan with a constant 10% pa portfolio returns YoY. Let's see what we get!
Though such expense gets adjusted every day basis to declare the NAV, but for calculation purpose I have just adjusted it at year end with the respective fund values. Cumulative impact of such expenses will be more than the upfront adjustment at end of the year, because the deducted portion of unit's value (in the form of expense) will not get the chance for future growth.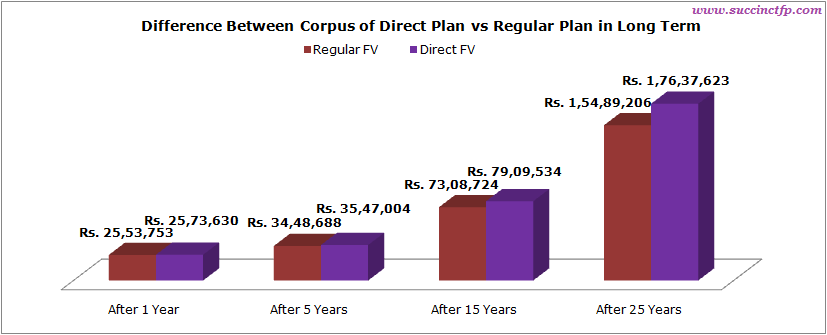 Now you can clearly see a projected figure of the future opportunity loss for Mr. Investor if he continues his investments with Regular Plan instead Direct Plan. To reiterate, these expenses are recurring basis which directly impacts the future growth of existing as well as new investments.
With the above case study and calculations many questions may arise. Let us answer them one by one;

How to choose a Direct Plan or Convert the existing Regular Plan to Direct Plan?
1. For New Investments (offline): If you are a new investor in Mutual Funds or 1st time investor for the specific fund house, make sure you are KYC compliant. You can visit to any mutual fund house collect the common application form (you can also download the application from mutual funds website), on the application form you should clearly indicate "Direct" in the ARN column and proceed with normal form filling procedure by opting the fund you want to invest.  It has been also observed where application is received  without Distributor code or "Direct" mentioned in the ARN Column, the application will be processed under Direct Plan, but try avoiding such practice.
2. For New Investments (online): You can also choose these Direct Plans online straight from mutual fund website itself by registering you bank account details for online purchase. For the first time you may need to send some authorisation, ECS, but later life will be easy.
3. Switching from existing Regular Plan to Direct Plan (Lump Sum): To convert your existing holding from a Regular Plan to a Direct Plan, you need to submit a switch request (you can get it at the mutual fund office or download from their website). This is a written request telling them that you want your existing mutual funds to be now converted into Direct Plan . Once they get this request, they will process it, they will intimate you once its done.
4. Switching from existing Regular Plan to Direct Plan (SIP): All the SIP's which were made through an agent/distributor will still be under the Regular Plan , you will have to manually request the switch to Direct Plan.
What about those investments (Lump Sum and SIP) where no  agent/distributor were opted at the time of buying?
All your existing investments (both lump sum and SIPs) in funds will not automatically switch to Direct Plans, irrespective of the manner in which they have been done directly or through a distributor. To convert your existing holding from a Regular Plan to a Direct plan, you need to submit a switch request. Similarly, the dividend reinvestments will also continue to be regarded as Regular Plans till you switch the original investment from Regular to Direct.
Fund houses have automatically created a new folio for schemes (new SIPs post January 1, 2013) under Direct Plan so that new investments goes into Direct Plan with lower expense ratio. But you have to ensure all the accumulations of SIPs or Lump Sum funds invested till January 1, 2013 have been switched if you want your funds should have additional opportunity growth.
Who should opt for Direct Plan of Mutual Funds?
1. Investor going with the Direct route is advantageous only if they are financially savvy and have sufficient time to do research. Selection of mutual funds is not just about expense ratios. If an investor doesn't have the expertise, skill or knowledge to be able to select a scheme that has been consistent in giving good returns and is suitable to his objectives then the lower expense ratio is not going to be of much use when his returns are poor.
2. Any Investor who is engaged (willing to engage) with a Fee-Only Financial Advisor, who charges fee for their advice, doesn't sell or depend upon commissions from product selling. These Fee-Only models actually remove all the conflicts of interest that the advisor will get biased from any specific recommendation where he/she has a separate cut.
Who should not opt for Direct Plan of Mutual Funds?
1. A Direct Plan will work well for an investor who knows what he/she wants and has the required knowledge and infrastructure to deal with various mutual fund houses for him/her portfolio. If you are not in this category, then you can simply avoid going for Direct Plans and take the help of your agent for selecting right fund. In such case where your agent helps you with better fund selection, time to time update you about the health of your portfolio, suggest you and switch, purchase, redemption then I personal feel they deserve to earn something in the form of commission.
2. Even though you are capable of understanding the catch of Regular Plans, you have sufficient knowledge and know the ways to opt for Direct Plan, but you are a bit lazy and reluctant to go for all these hectic (you may feel so) process of buying or converting to Direct Plan, then you better be with your agent and let them make money out of your hard earn money for no genuine reason.
Will I have to pay any switching charges on such conversion?
Yes, there will be applicable switching charges depending on scheme to scheme. If you have already completed the time limit for no exit load on switch/redemption then there wont be such cost levied on the transaction.
What are the taxation on conversion or switching from Regular Plan to Direct Plan?
If you are enthused about doing it directly and want to switch your existing investments into the direct plan, you have to account for both the exit load and capital gains. You you have to pay short-term capital gains tax (15.45%) on switched equity investments that have not completed one year. For equity investments that completed more than one year, you need not to pay any capital gains tax.  Tax on switching of debt/liquid funds will treated as short term gains/losses or long term gains/losses on debt/liquid funds and taxed accordingly.
"As per the provisions of IT Act, tax is payable on profit made on transfer of any capital asset depending on cost and holding period of LTCG or STCG form Debt or Equity funds. Thus, any exchange is also treated as transfer so the exchange of Regular Plan with any Direct Plan may incur tax liabilities".
Now, you have to answer honestly whether you are willing go for Direct Plan without depending upon your so called Relationship Manager, Investment Banker, Agent etc or you don't have the time to do all these. Decision is all yours.
Do share your thoughts.
Know all about Mutual Funds Direct Plan and Regular Plan; Plus FAQ