What is a TAN?
TAN (Tax Deduction and Collection Account Number) is 10 digits Alpha Numeric number issued by income tax India needs to be obtained by those people who are deducting or collecting the tax. It is compulsory to quote TAN in TDS/TCS return (including any e-TDS/TCS return), any TDS/TCS payment challan and TDS/TCS certificates.
Why to apply for TAN?
The provisions of section 203A of the Income-tax Act require all persons who deduct or collect tax at source to apply for the allotment of a TAN. The section also makes it mandatory for TAN to be quoted in all TDS/TCS returns, all TDS/TCS payment challans and all TDS/TCS certificates to be issued.
Failure to apply for TAN or comply with any of the other provisions of the section attracts a penalty of Rs. 10,000/-.
Who will allot TAN?
TAN is allotted by the Income-tax Department on the basis of the application submitted online at NSDL-TIN website or to TIN-Facilitation Centres managed by NSDL. NSDL will intimate the TAN to the applicant at the address provided in the application.
Who can apply?
Below mentioned entity can apply for TAN or can be an applicant.
Central /State Government/Local Authority
Statutory /Autonomous bodies
Company/Branch/Division of a company
Individual (Sole Proprietorship) / Branch of individual business
Hindu Undivided Family (HUF)
Firm / Branch of firm
Association of Persons/Body of Individuals/ Association of Persons (Trusts)/Artificial Juridical Person
Application Procedure for TAN
1) Any of above applicant will fill Form 49B online and submit the form.

Designation of the person responsible for making payment / collection tax' field is mandatory to fill up, wherever applicable.
The address of applicant should be an Indian Address only.
2) Make the payment at end of the application through cheque/DD/Credit Card/Net Banking and submit.

Note: Facility of making payment by credit card / debit card / net banking is not available for below mentioned categories:-
Central Government / State Government and
Statutory / Autonomous Bodies
3) After making payment and clicking on submit button, Applicant will see a confirmation screen with all the data filled by him.
4) Applicant can confirm the data and submit or edit if any changes required in application.
5) After submitting the final confirmation applicant will see the acknowledge screen which consists of;
A unique 14-digit acknowledgment number
Status of applicant
Name of applicant
Contact details (address, e-mail and telephone number)
Payment details
Space for signature
6) Applicant shall save and print this acknowledgment.
7) Send duly signed (should be in given box only) with seal or stamp(if required) acknowledgment to NSDL at;
NSDL e-Governance Infrastructure Limited,
5th floor, Mantri Sterling,
Plot No. 341, Survey No. 997/8,
Model Colony,
Near Deep Bungalow Chowk,
Pune – 411016
Points to be noted while sending the acknowledgment;
# Top of envelope above address kindly write "Application for TAN- numeric Acknowledgment No."
# Acknowledgment should be reaching NSDL within 15 days from date of application.
5. Fee for applying TAN and other payment related details are;
a. The fee for processing TAN application is Rs. 62 (Rs. 55 application charge + 12.36% Service Tax).
b. Payment can be made by
demand draft or
cheque or
credit card / debit card or
net banking
c. Demand draft / cheque shall be in favour of 'NSDL – TIN'.
d. Name of the applicant and the acknowledgment number should be mentioned on the reverse of the demand draft / cheque.
e. Demand draft shall be payable at Mumbai.
f. Applicants making payment by cheque shall deposit a local cheque (drawn on any bank) with any HDFC Bank branch across the country (except Dahej). The applicant shall mention TANNSDL on the deposit slip. List of HDFC Bank Branches.
g. Credit Card / Debit Card / Net Banking payment
h. Facility of making payment by credit card / debit card / net banking is not available for below mentioned categories:
Central Government / State Government and
Statutory / Autonomous Bodies
You can also check the status of the application by quoting acknowledgement number at https://tin.tin.nsdl.com/pantan/StatusTrack.html. See the image below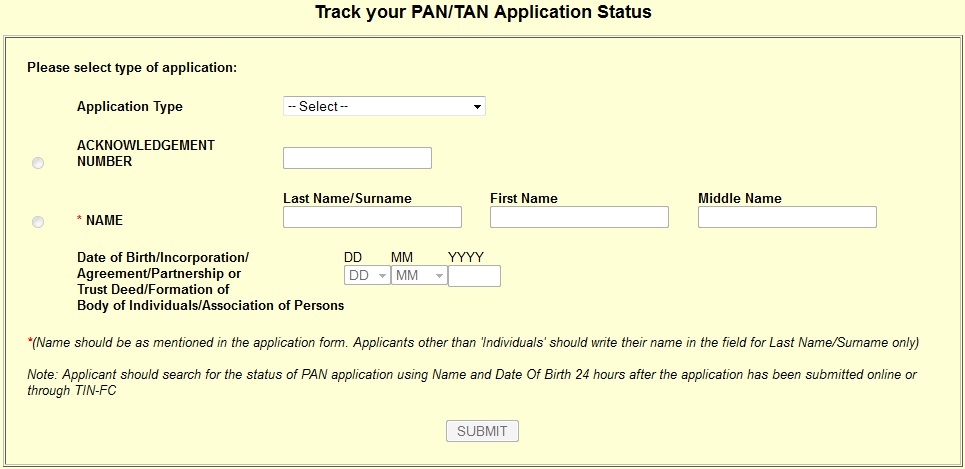 Know all about TAN (Tax Deduction and Collection Account Number) & the process of applying a TAN