It may be due to ignorance or due to any genuine reason you lose/lost your PAN Card. If same is the case with you, then don't worry you can apply a new one without even much of difficulties. In this article I will take you through the process step by step about how to apply a new PAN card against the lost one (new one will have the same number as old one).
Read the article on How To Apply Pan Card Offline and Online?
If you have lost your PAN already please don't ignore, it might get misused. Here the first and foremost thing you need to is, lodge the complaint to nearest police station.
There may be two situations while applying a Duplicate Pan  against the lost one, such as;
You don't know Pan number.
You know the Pan Number or you have photocopy of Pan Card.
If you don't know your PAN number:
Step 1: Know Your Pan
In case if you don't know you Pan number or not able to recall then don't worry you can retrieve from visiting https://incometaxindiaefiling.gov.in/e-Filing/Services/KnowYourPanLink.html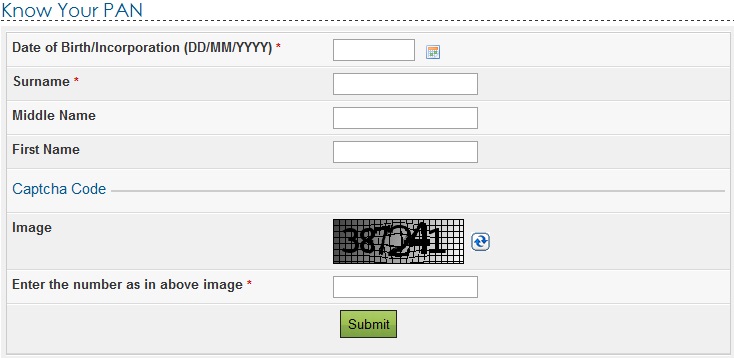 Fill the required details and submit query then you will find details as below.

If you still find difficulties to get the required details, then you can call Pan Centre Customer care @ 020-27218080/81
Step 2: Lodge FIR
You must lodge the complaint with nearest police station and take the acknowledgment/complaint copy. It actually ensures that your PAN Card should not get misused. (It is not compulsory to file FIR, but highly recommended to avoid any consequences in future.)
Step 3: Mode of Application
You can apply for duplicate Pan Card in 2 ways
A. Online Application or
B. Offline Application.
Apply Online:
You need to visit https://tin.tin.nsdl.com/pan/correction.html and extreme below of page you will find a drop down where you can choose whether firm, company or individual. Click on select.  After selecting the appropriate option, a screen will display i.e. Request For New PAN Card Or/And Changes Or Correction in PAN Data (see image below).

Fill the all mandatory fields with asterisk (*) mark.
For further assistance you can follow the guidelines and instructions for filling change request form.
As you will be heading towards completion of filling up the form, you will see the payment option below. Here you can choose the appropriate option such as, Demand Draft/Cheque, Credit Card / Debit Card or Net Banking and proceed.
Step 4: Send Acknowledgment
Once the form is completely filled up along with selecting required payment option, you need to click on SUBMIT. On successful payment confirmation, it will redirect you to a screen which will show the an acknowledgment. Now you have take the print of the said acknowledgment (sign on the given space as well) and send it to NSDL at 'National Securities Depository Limited, 3rd floor, Sapphire Chambers, Near Baner Telephone Exchange, Baner, Pune – 411045' along with a below documents;
FIR Copy
Affixed a Passport Size Photo (signed across on photo)
Address proof (you can see the list of valid address proofs while filling up the application form)
Identity proof duly self attested with applicant (you can see the list of valid identity proofs while filling up the application form)
Pan Proof (you can take print as I have explained in Know Your Pan process in step 1)
On the top of the envelope in which you will be sending this acknowledge you need to write top of it "APPLICATION FOR PAN CHANGE REQUEST-Acknowledgment Number.'
Note: Your application should reach at NSDL in 15 days from the date you have submitted the same online.
Once all of the above process is done you should get the pan card in 15 to 20 working days. If it doesn't reach you in stipulated time you can track your application online with reference of the acknowledgment no.
Apply Offline:
Follow the Step 1 & Step 2 as explained above.
Step 3: Fill up Offline Application
You can Download the application for New PAN Card Or/And Changes Or Correction in PAN, take the print, fill it up and submit the application form to the PAN center near your location along with the required documents such as Identity proof, Address Proof and Pan Proof and FIR copy.
Update December 28, 2013; New PAN application form 49A, 49AA Notified: Documents required to apply PAN Card
Remember, the application must be filled in black ink and in CPITAL letter and applicant, must be signed inside the Column provided.
15 digits acknowledge number will be given at time of submission of the application. Once all facts are matched and found accurate, you will get the pan card in 15 days-20 dyas of time.
If you know your PAN number:
Follow all of the above process except the "Step 1".
How to check the Pan Application status?
You can visit to TIN website, select the application type and put your 15 digit acknowledgment no, you can see the status of the application whether it is through or rejected.
Lost Pan Card..!!! How to Apply a New One..???