MF Utility (MFU) has been in news round the corner since it came up with the concept of CAN (Common Account Number) which helps you to transact across all mutual funds whether they are under CAMS, Karvy or any other R&T (Registrar and Transfer Agent). Since it was an offline mode, thus it didn't gain much attention of many investor in spite of MFU claiming that, soon its online facility will be operational.
Well! No more waiting now. MFU started its online operation officially from 1st of January 2016. Anyways, I could register my account one day in advance i.e. 31st December 2015 and made a transaction (just for a trail purpose) which successfully went through.
Let me quickly explain you, what MFU is all about and what is the intention and use of CAN.
During January 2015, the Association of Mutual Funds of India (Amfi – www.amfiindia.com) launched MF Utility (www.mfuindia.com), a single window for investment in multiple MF schemes. This is nothing but a 'Transaction Aggregation Portal' through which a MF investor can transact in multiple schemes across fund houses using a single transaction form via CAN. It provides online access to MF investors, with connectivity to Registrars and Transfer Agents (RTA), banks, AMCs, payment gateways and KYC registration agencies or KRAs.
How to get/apply CAN?
Investors will have to get themselves a Common Account Number (CAN) by submitting the CAN Registration Form at any MF Utilities India arm or a distributor signed-up with MFUI or a participating AMC branch (Refer MFU Points of Service). Once all documents are verified, investor will be issued CAN. As of now, investor needs to write an email to MFU requesting to create online account so that in reply, activation link will be sent. May be in future, activation link will automatically come immediately after CAN is issued.
KYC compliance is compulsory for CAN creation. If an investor is not KYC compliant, MFU will facilitate KYC registration.
Note: Like Units of MFs, CAN is also non-transferable. In case of eventualities like demise of one or more holders in the CAN, the surviving holders have to request for transmission with MF Utilities India. Even after obtaining CAN, you can still transact directly with respective websites, at MF offices for offline or with your existing MF agents. As of now arround 25 AMCs have participated into this and hoping all AMCs to be available soon.
Benefits of MF Utility;
It provides a consolidated view all your MFs (Just like www.moneycontrol.com & www.valueresearchonline.com), but the best part is, it allows you to transact as well. Whether you hold the units through any individual agents, corporate agents or you are a direct investor, this doesn't restrict anything.
You can Purchase into new schemes, buy more, switch, and create SIP etc. without much pain. Even Switch from existing broker (Regular Plans) to Direct Plans of MF is a cake walk.
For you ref, below are few screen shot of MFU Online;
Account Dashboard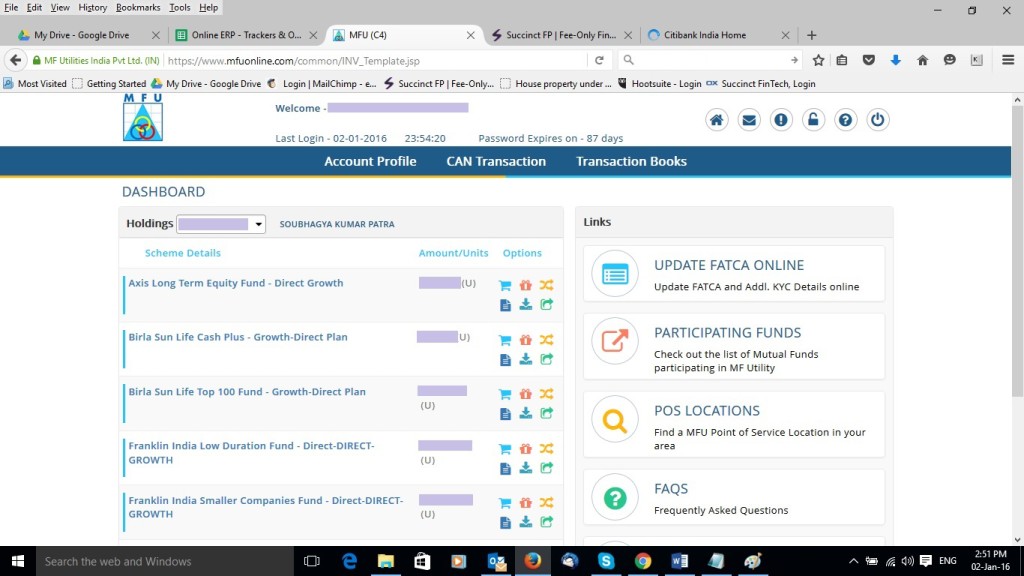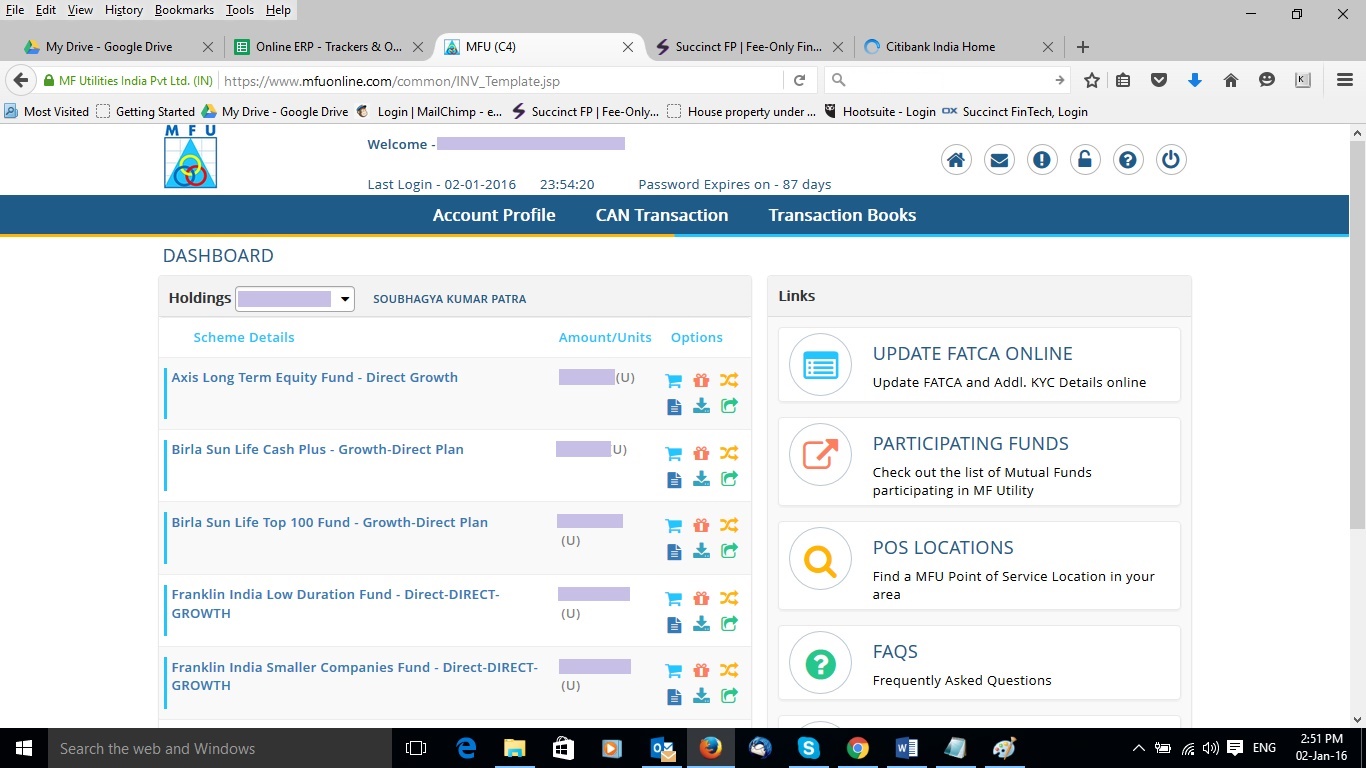 Account Profile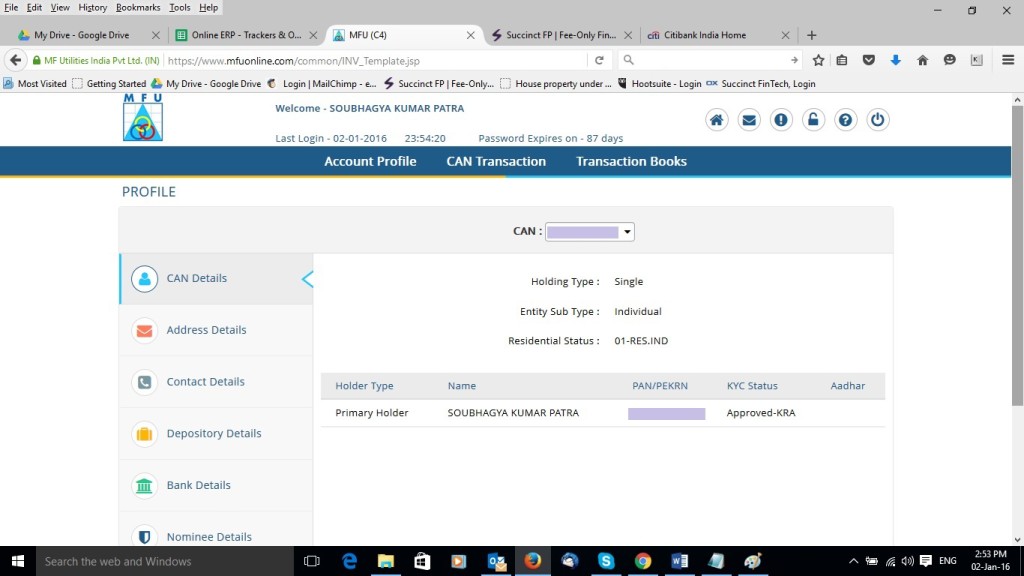 CAN Transaction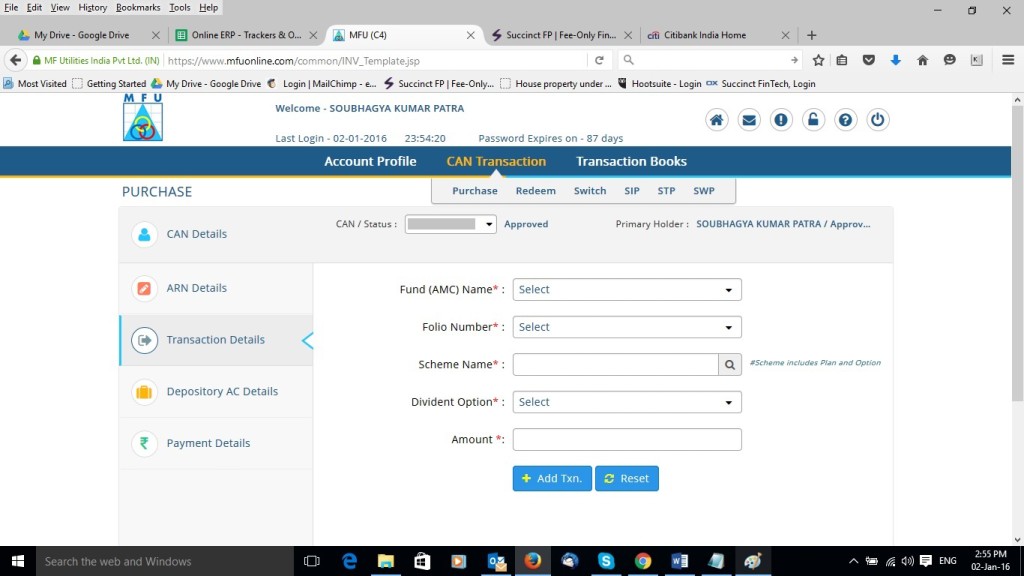 Transaction Books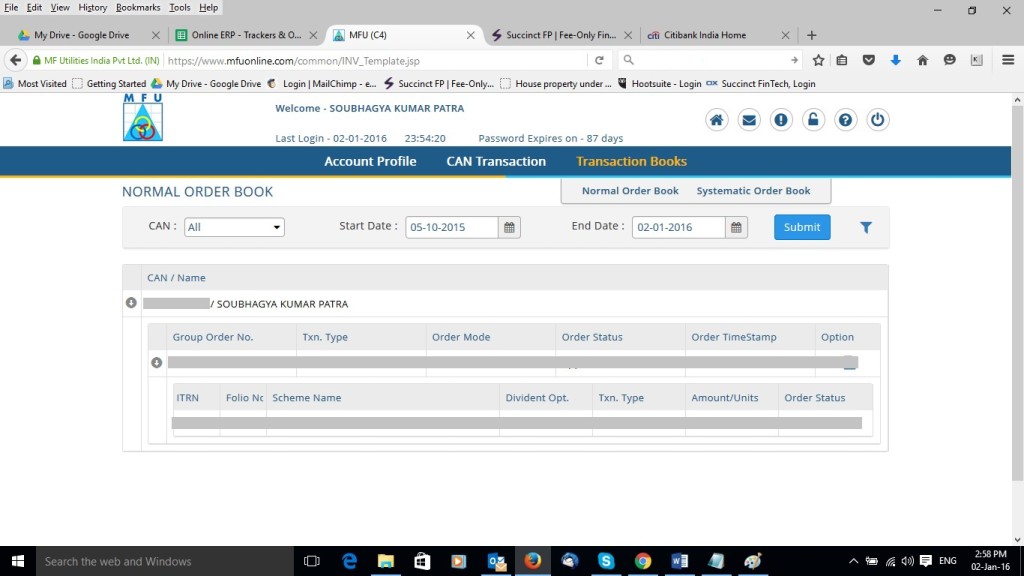 As of now, it is fully enabled for transacting, but reporting system such as, generating a reports of holdings, capital gains, performance reports are missing which is very much can be expected from this. With the pass of time and further improvement of user interface, these things could come. Hope for the best.
Haven't you applied your CAN? Why don't you try it? Or already have it then share your experiences. If you have any questions, do share in the comment section.
MF Utility: Consolidated View (even Buy/Sell/Switch) of all your MFs at one place