Financial Year 2017-18 may not be good for many home loan borrowers with the fact that now the government has reduced interest set off on home loans for rented house properties. So far the understanding (myth) of many borrowers that "the more interest you pay towards home loan, the more tax you save". Anyways, after the new rule of restriction on setting-off loss from house property such myth will have no place to exist. For the home loan borrowers who are paying significant amount of interest to banks to save tax, the new move is certainly going to increase their tax outgo.
At present there is no limit on the amount of this loss that can be set off against other heads of income if the house property let-out or deemed to be let-out. The budget proposes to restrict the loss on house property that can be deducted from 'other heads of income' such as 'salary income' to Rs 2 Lacs.
A new sub-section 3A in the Section 71, where in respect of any assessment year, the net result of the computation under the head "Income from house property" is a loss and the assessee has income assessable under any other head of income, the assessee shall not be entitled to set off such loss, to the extent the amount of the loss exceeds 2 Lacs rupees, against income under the other head.
It is to be understood now, the change in the rule will have a combined effect on both rented & self-occupied house property. Let us look at various scenarios on how final tax payable is going to be impacted with this change.
For the home loan borrowers who have only one house i.e. Self-Occupied, they may not face any impact;
For Self-Occupied House Property

Total Net Taxable Income & Impact on Tax Payable

If a loan borrower has one or more house properties being let-out then tax out-go will be comparatively higher;
For Let-Out House Property (One or Multiple Houses)

Total Net Taxable Income & Impact on Tax Payable

In another situation where a home loan borrower has a house property being self-occupied and has one or more house properties on rent, then;
For both Self-Occupied & Let-Out House Property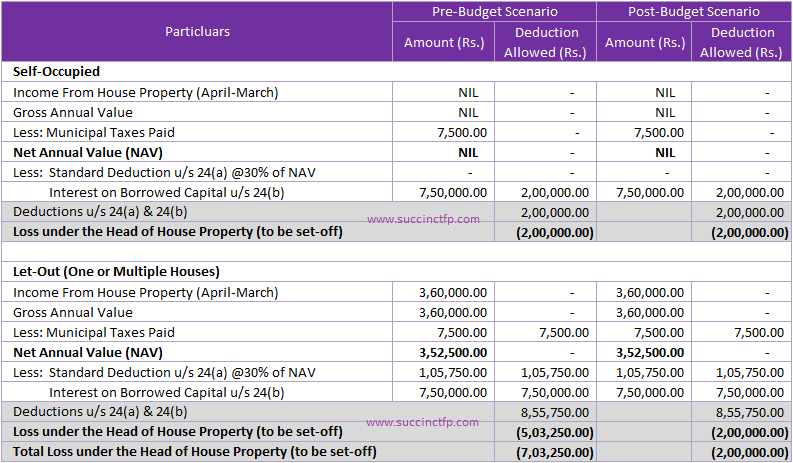 Total Net Taxable Income & Impact on Tax Payable

Now in all cases loss which can be adjusted is limited to Rs 2 Lacs only. Any unabsorbed  loss which has not been set off is allowed to be carried forward for set-off in future for 8 years. Btw, if it is the only carried forward loss for the year to be set-off next year(s) then fine, but in practically every year a good amount of unadjusted losses (higher the loan) get piled up and eventually become a LOSS for sure.
It is to be noted, Budget 2017-18 has also made it more clear that, tax has to be paid on notional rent even if the property is left vacant for any reason. A lot of people who own two house properties, assumed the loaned property as rented (deemed let-out) and managed to claim the entire interest as deduction. Such taxpayers can no longer do so.
Now Set-off Loss from House Property Only Upto Rs. 2Lacs (Not Unlimited)