If you have multiple mutual fund schemes from different banks/brokers, mutual fund advisors/agents or investment done directly, then it may be difficult for you to have a consolidated view for all. Of course you can use few online portals like moneycontrol.com, valueresearchonline.com and lot more, where you can create your profile and manually add all the schemes to get required view. But the problem is, whatever you see is virtual, but may not be actual! This means, it all depends on the data entries done by you. If you have missed to enter some purchases/redemptions or any of SIPs have not triggered then it will be showing the result as per the manual entries done last time. Such portals may not capture SIP rejections due to insufficient funds or cancellation due to KYC compliance issue. In such case you need to have a real-time/actual view.
It seems CAMS (Computer Age Management Services) has understood such plight and came up with an unbiased initiative to benefit mutual fund investors like you. It's particular tool known as myCAMS (also available on Android Apps on Google Play) where you can create a Single Login profile with the registered email ID and mobile number to view and track all your mutual fund investment, their performances in actual basis (i.e. not virtual).
How to create such Single Login at myCAMS?
Before this I must say, such single login can be created with your registered email id with the particular scheme. If you have different email id registered for different schemes or with different fund house then you can only access the details for the funds/schemes having email id same as single login profile created with. So it's better to have same email id for all the funds and their respective schemes. This way life will be little easier. Isn't it?
Step 1 – Visit www.camsonline.com -> Investor Services -> myCAMS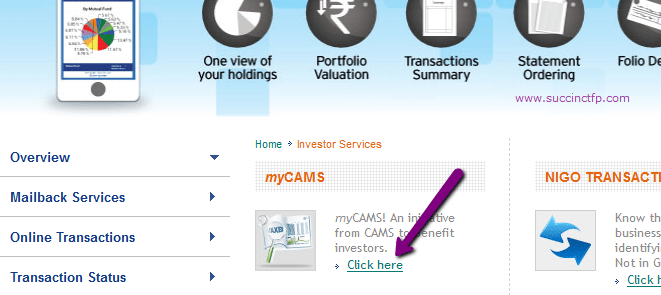 Step 2 – Once you click on to the link under myCAMS as indicated above, you will reach to a page where you can see an option called "Click here to register and follow the steps to complete the registration process". Click on given link to start the process of registration. See below image

Step 3 – Now you will get registration page i.e. myCAMS Registration. Select any AMC Name in which you have an investment. Enter your email id and PAN which are registered in your folio under the selected AMC Name. As per your wish you can either choose Activate by Email or Mobile. Based on your selection the activation code/password will be sent to your email/mobile phone as per your request.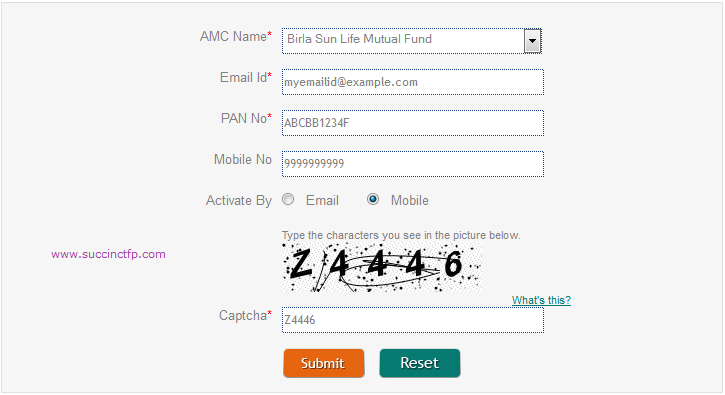 Step 4 – Once you receive the activation code/password, you can go to www.camsonline.com -> Investor Services -> myCAMS as stated in step 1. There you will find the option called myCAMS Login where you need to entered registered Email ID as User ID, Mobile no and activation code/password (received via email or mobile), Captcha code and click login. Now it will ask you to change the password for security reasons. After password has been successfully changed you will be redirected to a page where you can see list of folio(s) under which you will see ACTIVATE option. Click on ACTIVATE to map folio(s) under your user id.
Once your login has been activated, you can click on the link given to access your account where you need to enter User ID, New Password and Captcha code to login.

After successful login you can see all Mapped AMCs & their respective Folio List (similar to above example). You may also see list of UnMapped Folios as a separate link, which do not have your registered email id or which have a different one. So it's better to update same email ID for all the scheme to have these unmapped investments under mapped list to get consolidated view. You can do so by writing simple request letter to each AMC or their registered transfer agent (e.g. CAMS) to update email & mobile number.
Some Limitations of myCAMS:
As of now it has information for the fund houses which are under CAMS only. Mutual Funds like, Franklin Templeton Mutual Fund, UTI Mutual Fund, Sundaram Mutual Fund and others which do not come under CAMS will not be available in myCAMS.
So far it is giving the options to send email (download link or as attachment) for various statements. But I think it would be better if there is any direct view option is available within the user interface itself. Currently you can see cost of purchase and current value under Valuation link, but it is only individual AMC wise i.e. not consolidated.
It seems, you can view your list of folios under various schemes, get various statements via email, download them, check the status of SIPs, change mobile no etc, but most important thing i.e. transact online (such as Purchase, Redemption, Switch) is still inactive though the links are present.
When you download a particular service request form, it doesn't have pre-filled information which can be expected at least.
Some Positive Expectations from myCAMS:
No doubt CAMS is diligently working on to meet the need of investors and I am sure it must be contemplating something to bring Non-CAMS funds under single login option as it has already made possible in its Mailback Service where you can get consolidated statement for Non-CAMS AMCs along with all CAMS served AMC schemes.
Since the links for purchases, switch, redemption are available (but inactive), I feel soon they will be activated along with the option of viewing/exporting fund performance, transactions history and others through the user interface itself.
Why can't new SIP registration or cancellation be expected here?
Conclusion:
Though it has certain limitations, but I really feel it will pacify the pain of many investors who do not do investment with agents/brokers to have online access to all MFs rather they opted Direct Plan as an investment mode to ensure additional returns by way of low expense ratio.
Of course myCAMS is one the best answers for the financial planners (fee-only) to their clients whom they suggest to move out from Regular Plan (broker/advisor linked) to Direct Plan, but investors give the reason to stay with agent is, they get consolidated view.
Message to Mutual Fund (Regular Plan) investors: If you are currently having a privileged account or any so called dedicated account with your bank, brokering firm or agents who claim that, because of your profile/investment amount they are not levying any transaction cost, then you need to read all about Mutual Funds Direct Plan and Regular Plan.
Use myCAMS to track all your Mutual Funds at one place (It's Free)