Just the way a resident individual can submit 15G or 15H to avoid TDS if his/her annual aggregate income doesn't not exceed the basic exemption slab, a Non Resident Indian (NRI) cannot do so as these forms are not applicable for NRIs.
What the rule says?
Interest earned by an NRI from the NRO deposit is taxable in India as per the provisions of Sec 9(1)(V) of the Income Tax Act, 1961 and TDS has to be effected as mentioned in the Finance Act. The rate at present is 30% plus surcharge and Education cess. However, deduction of TDS depends upon the country of residence of the depositors and based on DTAA (Double Taxation Avoidance Agreement) entered into by the Government of that country with Government of India.
In case of NRIs, TDS is deducted on interest income at rate of 30 %( it may be lower with a range of 10%- 15% in case Tax Residency Certificate is submitted from a treaty country). There is no threshold limit on the interest income earned by NRIs as every rupee of interest attracts TDS at 30%.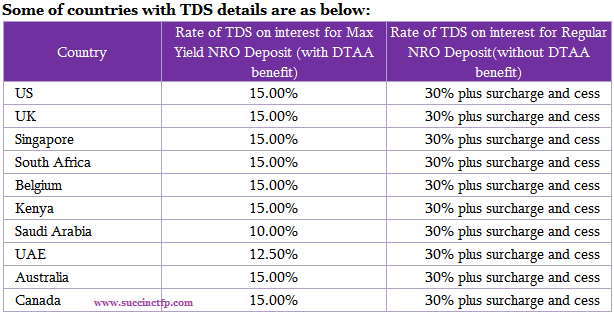 What an NRI should do to avoid TDS?
Income tax law has a separate procedure where an NRI must file an application under section 195(3) of the Income Tax Act to the jurisdictional tax officer to obtain a certificate of non-deduction or lower deduction of taxes. An NRI must apply this certificate to Income tax officer in his/her jurisdiction and if Officer grants him/her the waiver, he/she can submit this form to the bank for non deducting TDS on interest income. But getting waiver from income tax department may not be easy. It is all about tax officer giving grant or not. So the best way is to file income tax return and claim TDS refund. Also note, TDS refund is only available if resident or non-resident Indian has a Permanent Account Number (PAN).
What an NRI should do to avoid TDS on Interest on Bank Deposit?