"BLOCK DEALS" are nothing but those trades that are done between two parties who have agreed to buy/sell the stock in huge quantity at a mutually agreed price. These are Delivery Trades in nature.
In simple words "Block Deal" means, that a large chunk of shares have changed hands. The deal can be between any 2 people. They may be promoters of company or even foreign institutional investors.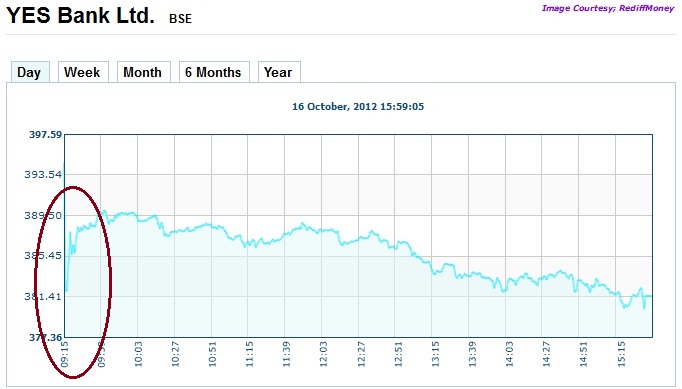 If you have seen on 16th October 2012 during the market opening hour the banking share YES Bank fell by approx 3% i.e. Rs. 381.50 from the previous day closing price of Rs. 394.70, this is due to a large block was executed in the stock on BSE in early trade. Meanwhile, the BSE BANKEX was up 57.5 points, or 0.44%, to 13,192.99 as well as the BSE SENSEX was up 87 points, or 0.47%, to 18,800.55.
On this day it was seen on BSE, a huge 1.58 crore of these shares were traded in the counter as against an average daily volume of 2.77 lakh shares in the past one quarter.
According to SEBI (Securities and Exchange Board of India) a block deal is a single transaction of a minimum quantity of five lakh shares or a minimum value of Rs 5 crore and is done between two parties through a separate window of the stock exchange that is open for only 35 minutes in the beginning of the trading hours.
SEBI has also made it mandatory for the stock brokers to disclose on a daily basis the block deals made through DUS (Data Upload Software).
You also have heard of Bulk Deals, now what's the difference between Bulk Deals and Block Deals?
Normally bulk deals are market driven. If more than 0.5% of the number of equity shares of a company gets traded in a single or multiple transactions under a single client code, it is called as Bulk Deal. Bulk deals carried out for the day should be revealed by a broker on the same day to the stock exchange using the DUS, however a Block Deal happen through a separate window provided by the stock exchange. This window is open for only 35 minutes but bulk deals take place throughout the trading day. There is always a need for two parties for a block deal to take place.
As stated above most of the times institutional players including the foreign institutional investors as well as mutual funds, financial institutions, and companies carrying out insurance business, banks, and venture capitalists are the major participants in this type of deals.
The SEBI Guidelines in September 2005 for execution of block deals on the stock exchanges say;
A separate trading window would be kept open for a limited period of 35 minutes from the beginning of trading hours: 9.55 am to 10.30 am
The orders may be placed in this window at a price not exceeding +1% or -1% from the ruling market price/previous day closing price, as applicable.
An order should be for a minimum quantity of 5 lakh shares or minimum value of Rs 5 crore.
Every trade executed must result in delivery and shall not be squared off or reversed.
Stock exchanges should disseminate the information on block deals to the general public on the same day after market hours. This should contain information bits like name of the scrip, name of the client, quantity of shares, traded price and so on.