Bonus Stripping is another strategy to reduce the tax liability similar to Dividend Stripping as explained earlier. This has been introduced w.e.f April 1, 2005 under section 94(8) by Finance Act, 2004. It says that the loss, if any, arising to a person on account of purchase and sale of original units shall be ignored for the purpose of computing his income chargeable to tax if the following conditions are satisfied;
The purchase of units (original units) has been made within a period of 3 months prior to the record date of bonus issue
Such person is allotted additional units (bonus units) without any payment, on the basis of his holdings on the record date
Such person sells or transfers all (or any) of the original units within a period of 9 months after the record date but continues to hold all (or any) of the bonus units; and
On the date of sale or transfer he continues to hold all or any (atleast one) of the additional units (bonus units)
Let us understand these with an example;
For instance, say an investor buys 10,000 units of XYZ Mutual Fund's scheme at a NAV (Net Asset value) of Rs.30 (cum-bonus price) per unit on March 10, 2014, making total cost of purchase of Rs. 3,00,000 i.e. (Rs 30 per unit × 10,000 units). The fund schemes announces a bonus issue of 1:1 for which the record date is May 5, 2014. On the record date, the NAV of the units of the mutual fund scheme is at Rs 34 per unit with total current value of Rs. 3,40,000.
Since bonus issue ratio is 1:1, investor will get equal amount of units currently hold. Here additional 10,000 units will be allotted to the investor which become total of 20,000 units. Consequently the NAV of the units (after bonus declared) of the mutual fund scheme would drop from Rs 34 per unit to Rs 17 per unit. Even after the issuance of the bonus units and fall in NAV, the total investment would remain at Rs 3,40,000 (Rs 17 per unit × 20,000 units) as even before the bonus issue (Rs.34 per unit × 10,000 units).
Now the investor wish to sell 10,000 units (out of total 20,000 units) on Septemebr 5, 2014. While selling FIFO (First-In-First-Out) method will be applicable which will sale only those original units purchased on March 10, 2014 as per the price of units come down when it becomes ex-bonus. Assume on the date of sale the per unit closing NAV is Rs. 16.50, then the profit/loss on this transaction would be;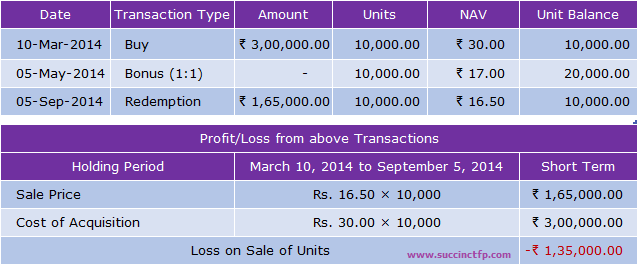 Basis above calculation, it is observed on the sale of the original 10,000 units, the investor would suffer a short term capital loss (STCL) of Rs. 1,35,000, as the mutual fund units are held for a period not exceeding one year. However, as per section 94(8), the short term capital loss of Rs. 1,35,000 shall be ignored for the purpose of computing total income and such STCL of Rs. 1,35,000 shall neither be set-off nor be carried forward.
Further, the amount of loss so ignored shall be deemed to be Cost of Acquisition of such additional units held by investor on the date of such sale or transfer.
Some key points to be noted;
Observation into the said provision states, Bonus Stripping applies only in case of units and not for shares or securities.
While selling you need to sell original units, but not bonus units
It is applicable even in case where units are held as stock in trade
Remember, it will not apply if any additional units are transferred before the original units are sold.
While filing IT returns, such losses (even if any via Dividend Stripping) to be shown under "Capital Gains" in positive value as "Loss to be disallowed u/s 94(7) or 94(8)".
Wrong practice of this mechanism will be termed as Tax Evasion
It is always recommended that follow the steps and go by the rules/conditions satisfying to a particular provision.
Section 94 of Indian Income Tax Act 1961 refers to tax avoidance by certain transactions in securities. Within this, section 94(8) covers taxation of bonus shares held under the mutual fund units. Thus, bonus equity shares held by individual investors or companies are completely out of the tax net. Opting this strategy (bonus stripping) to reduce tax liabilities on sale of Stocks and Shares will not be a good idea.
What is Bonus Stripping? Strategy for Tax Planning (not Tax Evasion) Explained!