Sweat Equity Shares are the equity shares issued by the company to its employees or directors at a discount or for a consideration other than cash for providing know how or making available rights in the nature of intellectual property rights (IPR) or value additions, by whatever name called. Section 79A of the Companies Act, 1956 permits a company to issue sweat equity shares of a company subject to the guidelines to be issued in this regard.
Sweat equity shares are basically given to a company's employees on favourable terms, in recognition of their work. It usually takes the form of giving options to employees to buy shares of the company, so they become part owners and participate in the profits, apart from salary. Basically when a startup company forms it engages the best talent/employees, who bring in their IPR and know-how, skills and expertise with them, which eventually makes value addition for the company. Such employees are awarded with Sweat Equity as an incentive to join and stick to the company.
It doesn't not matter whether a company's shares are listed in the stock exchange or not, it can still issue such shares.
In the case of a company whose equity shares are not listed on any recognised stock exchange, sweat equity shares can be issued in accordance with certain guidelines.
In the case of unlisted companies, sweat equity shares cannot be issued before one year of commencement of operations. Moreover, such companies cannot issue more than 15 percent of the paid-up capital in a year or shares with a value of more than Rs 5 crores whichever is higher except with the prior approval of the central government.
Section 79A of the Companies Act stipulates that
The issue of sweat equity shares should be authorized by a special resolution of the General Meeting.
The number of shares to be issued, its current market rate, consideration, if any and the class of persons to whom it is proposed to be issued.
At the time of issue, the company ought to have completed at least one year of is commencement of business.
The shares issued of a company whose shares are listed in the stock exchange should adhere to the norms of the SEBI.
In other words, Sweat equity shares are no different from employee stock options (ESOPs) with a one year vesting period. It is essential when a company is formed, to assure the financial investors that the knowhow providers will stay on, or for a start-up with limited resources to attract highly-qualified professionals to join the team as long-term stakeholders. But still there are fine lines between ESOPs & Sweat Equity Shares. Let us see what these gaps are;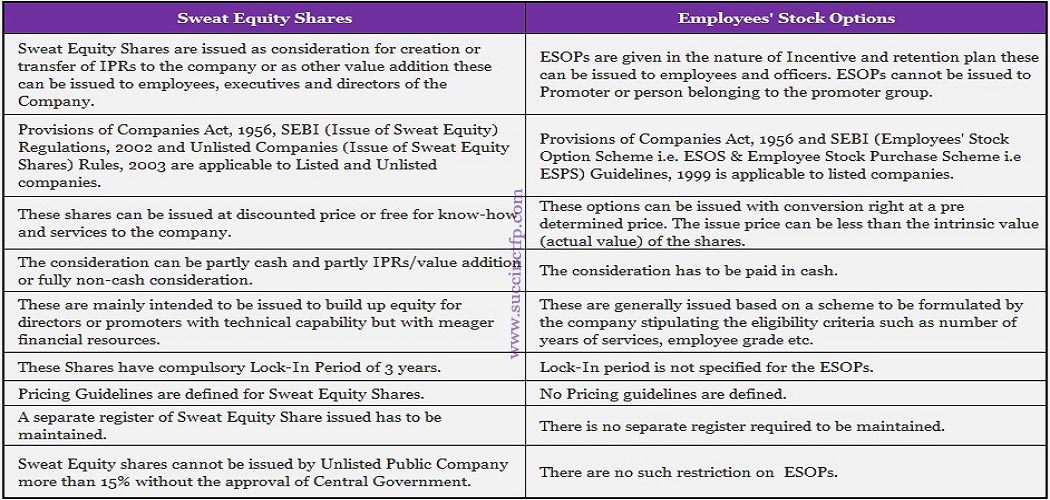 Taxation & Tax Planning for Sweat Equity Shares:
As per Section 17(2)(vi) of Income-tax Act, 1961 the value of any sweat equity shares allotted or transferred, by the employer, or former employer, free of cost or at concessional rate to the employee is taxable as perquisite.
In case such shares are transferred/sold by the employee within a period of 12 months from the date of allotment, then such gains will be treated as Short Term Capital Gains (STCG) and in that case STCG tax is charged at the rate of 15 per cent. If such shares are transferred/sold after holding for a period of 12 months then such gains will be treated as Long term Capital Gains (LTCG). For LTCG, if the shares are of listed companies and transferred/sold on a recognised Stock Exchange after payment of Securities Transaction Tax then there is no LTCG tax, but shares of unlisted companies are subject to a cut at 10 per cent tax.
In order to avoid such Capital Gains Tax impact, employees can resort to gifting the same shares to the members of the family who does not have the taxable income. As there is no gift tax levy, there is no tax on such gifts. Subsequently when such shares are transferred by such family members will not suffer capital gains to the exempt of their basic exemption limit.
What is Sweat Equity Share?