It's not only you get confused between EPF and PPF, but also sometimes back I was even mixing EPF and PPF :-). Anyways those were the days when I was completely new to such financial terms/investments.
Since I am completely clarified with the doubt (at least with the difference) about EPF vs PPF, let me bring you the clarity as well with some simple and easy examples with their respective rules and laws.
EPF – Employee Provident Fund – As the Name suggests Employee Provident Fund is only for Salaried Employees.
PPF – Public Provident Fund – This is open for common public, irrespective of salaried or Business man/Self Employed.
Now let us understand the differences of these two with some key points.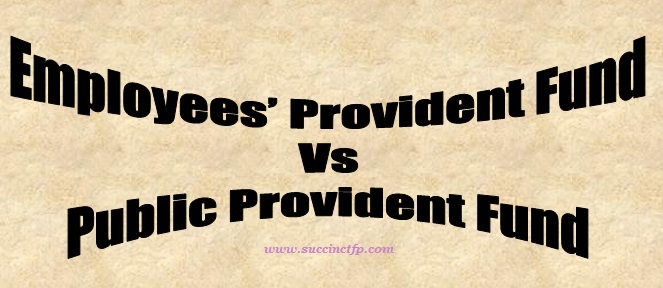 Investment Limit: For EPF (Employees' Provident Fund), the amount is decided by the government. At present it is 12% of an employee's basic salary. However, if you want, you can contribute more than the stipulated amount as VPF, but your employer is not obliged to contribute if you increase your contribution. Currently EPFO is contemplating to include other allowances as well with basic salary to increase the PF contribution.
Where as you can open a PPF (Public Provident Fund) account in any nationalized bank or its branches that handle PPF accounts. You can also open it at the head post office or certain selected post offices. The minimum amount to be deposited in this account is Rs 500 per year. The maximum amount you can deposit every year is Rs 1,00,000.
Rate of Interest or Returns: The rate of interest for both EPF and PPF are decided by Government every year.
Currently EPF interest rate has been announced at 8.5% per annum, whereas for PPF the interest rate is at 8.70% for financial year 2013-14.
Lock-in Period & Investment Tenure: Employee contributes to the EPF till he/she is there in the Job. The accumulated EPF amount will be paid at the time of retirement or resignation whichever is earlier. It can also be transferred to one company to other in case of a job change. In case of the death of the employee, the accumulated balance is paid to the legal heir.
PPF account can be opened anytime for a period nothing less than 15 years. The invested amount in PPF can be withdrawn on maturity i.e. after 15 years. It can also be extended for a period of 5 Years. During these five years, you earn the rate of interest and can also make fresh deposits.
Both PPF and EPF have withdrawal and loan options subject to specified circumstances and number of years the investment being held.
In case of Urgent Requirements or Loan Option: As said above, both EPF & PPF have premature withdrawal and loan facilities. In case of EPF, premature withdrawal is allowed for marriage of Self, Siblings or Children's marriage, if you are buying a Home and few other occasions.
You might want to read the article on Know how your current EPF can help you to meet your major cash requirements
In case of an emergency you can take a loan on PPF from the third financial year excluding the year of deposit to the sixth year. Also, the loan amount will be upto a maximum of 25% of the balance in your account at the end of the first financial year (if you opt for the loan in the third year). If you opt for a loan in the fourth year, the second year's balance will be taken in to account and so on.
Remember! No fresh loan is allowed when a previous loan or interest is outstanding.
Taxation: Investment into EPF qualifies for deduction u/s 80C. Interest earned on EPF is tax free. Withdrawal of EPF amount is subject to tax if withdrawal within 5 years of employment with the same employer. If you have not worked for at least five years with the same employer but the EPF has been transferred to the new employer, it is not taxed.
Even PPF Investment qualifies U/s 80C. No Tax is payable on the Interest Earned on PPF Account.

I hope now you also got the clear differences between EPF & PPF. Do share your thoughts.
What is the difference between EPF and PPF?