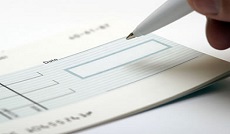 The Reserve Bank of India once again announced (dated March 18, 2013) that it has extended the deadline for banks to ensure withdrawal on Non Cheque Truncation System (CTS) cheque till July 31, 2013. Now you as a bank account holder can continue to use your old format cheques for another four months up to July 31, 2013. This is the second time RBI extended this deadline, earlier 2012, the apex bank had asked all banks to withdraw the non CTS cheques, and accept only those cheques which conform to new standards from January 1, 2013, but in December 2012, the RBI had extended the deadline to convert to the new standard CTS-2010 by three months to March 31, 2013.
Fyi, the CTS-2010 eliminates the current practice of physically presenting a cheque to the payee bank, thereby substantially reducing the time for cheque clearance.
In this announcement RBI also directed all banks not to ask for EMI (Equated monthly Installments) PDC's (Post Dated Cheques ) from the customers either CTS cheques or Non CTS cheques, where ECS (Electronic Clearing System)/RCES(debit) facility is available. Further banks has been directed to take a mandate from the customer (borrower) to direct debit his account for equal monthly installments.
So, if you are taking loans from the Bank then no need to issue post dated cheques to bank ,if ECS/RCES(debit) facility is available in your Bank/Branch/Station. This direction will reduce number of cheques transaction is Banks.
The circular also indicates ""all cheques issued by banks (including DDs/POs) with effect from the date of this circular shall necessarily conform to CTS-2010 standard.
<![if !IE]><![endif]>
You can still use your Non-CTS-2010 cheque books till July 31, 2013